Class of 2021 Commencement Central

Commencement Live Stream Recordings
The KCU commencement ceremonies are now available to watch on YouTube.
Click the images below to access the live stream recordings.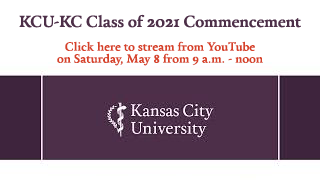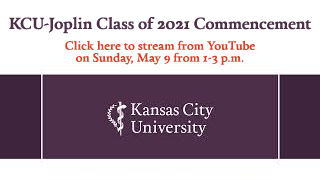 ---
---
General Information
Updated as of May 7, 2021
Joplin Information:
Kansas City Information:

Kansas City Graduates - Attire:

We have moved the location of attire pick-up from Kesselheim Center to the Academic Center. Rather than "drive-thru" at Kesselheim Center, you will come inside the Academic Center to pick up attire. You may park in the covered garage to the north of the new Center for Medical Education Innovation (CMEI). In order to manage traffic flow, we ask that you follow the alphabetic pick-up timeline provided on Commencement Central. The campus may have changed some since you were here last, so please reference this campus map to access the parking garage. (Access the campus entrance from Independence by going north on The Paseo to Missouri.)

Guests

-

Due to physical distancing guidelines mandated by our venues, each graduate will be allowed four (4) guests. Tickets and parking vouchers (if applicable) will be in the attire boxes.

Guest Hooder Information

Guest Hooder information (PDF was provided in an email from April 25, 2021)
We are making every effort to maintain the tradition of allowing graduates to be hooded by a guest hooder. As of today we plan to incorporate this very important piece into your ceremony. However, should CDC, state and local COVID guidelines change, we reserve the right to make a change in this regard. If that becomes necessary, we will provide you with as much notice as possible.

Attendance - Attendance at all Commencement activities is required of all graduates (except those noted "by invitation only").

Students who wish to be excused from attending any activity, please submit this form for review and approval by your dean.


Live Streams & Video -

In order to accommodate friends and family members who are unable to attend, KCU will provide a live webcast of each Commencement Ceremony streamed directly from YouTube: Kansas City | Joplin
Shortly following the ceremony, the full video of each campus's ceremony will be available online.
Commencement Parking - Parking details are listed on each campus event schedule.

Kansas City Parking:

In your attire package, you will receive one parking validation ticket to park in the Barney Allis parking garage at

1237 Central Street

, across the street to the north of Municipal Auditorium. If the garage says it is "full" please note that this does not apply to those with validations and you may still park there. Additional lots and garages may be found throughout downtown

here

. If you requested handicapped parking for a guest, please have them check in with University Security at 13th and Central.

Joplin Parking:

Parking on the MSSU Campus is free. Please review this map to locate parking lots nearest the Leggett and Platt Athletic Center.

Photography - Two photographers will attend each commencement ceremony (KC and Joplin). Lifetouch Photography

will take photos of each graduate as they are hooded and these will be available from their gallery for you to purchase and download. Additionally, a photographer will take candid shots throughout the ceremony and these will be available for downloading from a KCU digital album. Please check this page following commencement for the link.