Kris Nichols
University Relations Project Manager

University Relations Project Manager, Kris Nichols, is a part of the University Relations team. If you wish to contact her, please email her at knichols@kansascity.edu.
Recent Blog Posts By Kris Nichols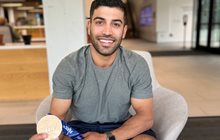 From Athlete to Physician: The Inspiring journey of Joey Peters, PhD
When Joey Peters arrived on the University of Illinois Urbana-Champaign (UIUC) campus in 2012, he was a competitive gymnast with aspirations of participating in the 2020 Olympic Games. Today, he's a first-year student doctor at Kansas City University (KCU), a testament to his tenacity, resilience and adaptability.