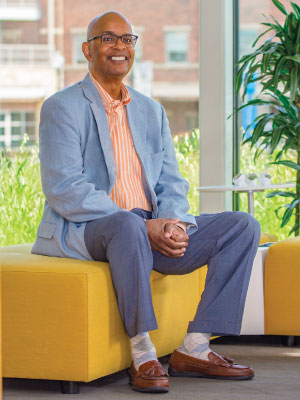 Kansas City University (KCU) announces the appointment of Kenneth Durgans, EdD, as associate provost for diversity and inclusion.
Durgans comes to KCU from the University of Colorado, School of Dental Medicine, Aurora, Colo., where he served as a key member of the Dean's senior administrative team with oversight for all diversity and inclusion activities that support students, faculty and staff.
Prior to his role with the University of Colorado, Durgans held similar positions at several institutions including Indiana University-Purdue University Indianapolis, Indiana, Rensselaer Polytechnic Institute, Troy, N.Y., Xavier University, Cincinnati, Ohio and University of Notre Dame, Notre Dame, Indiana.
"Dr. Durgans has been an early pioneer in the field of diversity and inclusion," said Ed O'Connor, PhD, provost and executive vice president for Academic, Research and Student Affairs. "He was leading trainings, developing recruitment programs and mentoring students long before diversity became mainstream practice.
His experience at the University of Colorado School of Dental Medicine will provide unique insight as KCU prepares to launch a dental school on the KCU-Joplin campus in 2022," O'Connor noted.
"We are thrilled to have someone with Dr. Durgan's vast experience, expertise and enthusiasm as KCU continues to grow as a health sciences university that is inclusive of all backgrounds among students, faculty and staff."
As associate provost, Durgans will lead the development of a vision that champions the importance and value of a diverse and inclusive environment at KCU. Durgans will implement strategies that build on KCU's current efforts to attract a diverse student body and build an inclusive community and workforce through training, community outreach, pipeline programs and cross-cultural understanding. Durgans will have additional opportunities through teaching, mentoring students and research.
"Anyplace I have been where the people are serious about doing this work we've been successful," Durgans said. "I feel there is an opportunity to do something really special at KCU because of the attitudes and the optimism of the people there. When I met with leadership, faculty and staff, they were gung-ho and excited. I knew this was the place I wanted to be."
Durgans earned a Doctorate of Education from Western Michigan University; a Master of Science from the University of Dayton, Master of Arts from Kent State University, Bachelor of Arts from Baldwin-Wallace College and completed a Management Development Program through Harvard University's Graduate School of Education.
Durgans has served in leadership and committee positions on the local, regional and national levels and holds membership in several professional societies including the American Association of Black Psychologists, American Association of Blacks in Higher Education and the John D. O 'Bryant National Think Tank. He is also the author of dozens of publications and the recipient of many prestigious honors and awards.