College of Dental Medicine Building Progress
---

October 6, 2022
Donors received a first look at the new Kansas City University (KCU) College of Dental Medicine located on the Joplin campus during a hard hat tour on October 6, 2022. Read the full story by clicking here.
December 2, 2021
The dental college building now has a third story. Visit the live construction cam for up-to-the-minute visuals of our progress!
November 1, 2021
The KCU College of Dental Medicine Joplin campus construction is more than 25% complete.
May 22, 2021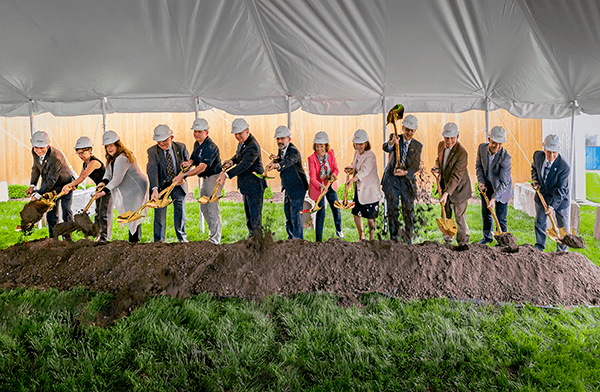 KCU broke ground for a new College of Dental Medicine on the KCU-Joplin Farber McIntire Campus on May 22, 2021. We will welcome the first class of 80 students in 2023. Once fully enrolled, the College will have 320 students training to serve the four-corner region of Missouri, Kansas, Oklahoma and Arkansas through a team-based, comprehensive care general practice model.
Working under the supervision of faculty preceptors, KCU's fourth-year dental students will provide comprehensive oral health care in clinical partner sites to patients throughout the four-corner region. The College of Dental Medicine expects to provide an additional 40,000 to 50,000 patient visits annually, helping to increase access to oral health care for the local community.
Northwest Arkansas, Southwest Missouri, Southeast Kansas and Northeast Oklahoma have fewer dentists per capita than most areas in the United States. This multi-state region within a 125-mile radius of Joplin, Missouri, has an immediate and critical need for more dentists, specifically in rural and underserved communities.* Recruiting students from rural areas and increasing their awareness of oral health disparities and the effects they have on learning and employment, may improve the likelihood that KCU's graduates will establish practices in underserved areas.