In the 1984 novel, "Other Women," American author Lisa Alther wrote, "Any mother could perform the jobs of several air-traffic controllers with ease." While many moms would agree with Alther's statement, how about juggling the demands of raising five children while attending medical school? One particular Kansas City University (KCU) student is doing just that!
First-year Student Doctor Taylor Karpeles' children range in age from 5 years old to 12 years old. Despite their young ages, they show their mom full support in accomplishing her dream of providing health care to expectant mothers. "My husband and kids had prayed for an open door to medical school long before I took the MCAT. They've supported me every step of the way," she said.
Karpeles says she discovered medicine as her calling during her pregnancies. She became fascinated with prenatal, labor and delivery care and each experience instilled in her a passion for advocating, advising and caring for women. While working toward her bachelor's in nursing, Karpeles served as a doula, which also reinforced her desire to become a doctor. "I kept wanting to do more to walk women through that season of life. I felt a sense that I should pursue medicine. It immediately felt right," she remarked.
When asked how she manages to care for so many children while attending medical school, Karpeles says prioritizing her family and being present with them are musts. "I choose them repeatedly. They are my top priority, and I'm intentional about connecting with them as often as I can," she said. "My husband and I make a good team. He works remotely and that allows him to be with the children when I attend class and study."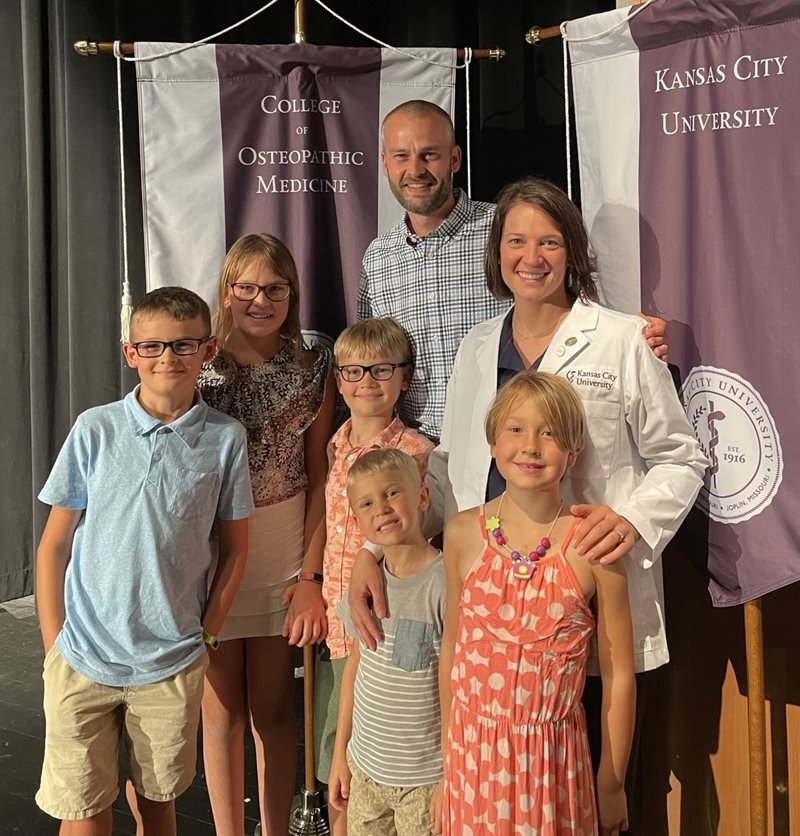 She also offers some advice to other medical students who may be parents as well. "Surround yourself with supportive people and minimize negative relationships. Some suggested that I should stay focused on the kids and that I was being distracted by my pursuit to become a doctor," she remarked. "I believe it is possible to do both, as long as you're able to set boundaries and understand that you can't do every club or activity."
Without question, being a mother is one of the hardest and most rewarding jobs in the world. The same can easily be said about becoming a physician. Karpeles' unwavering tenacity is an amazing example of what it takes to be a KCU student and a mother.