Joseph Massman, MBA, CPA
Chief Financial Officer and Chief Operating Officer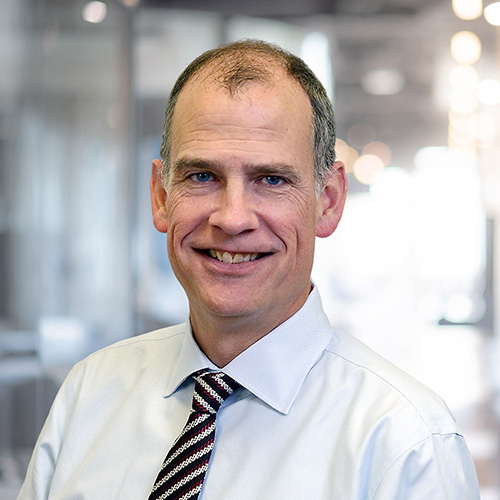 Joseph Massman, MBA, CPA, serves as the chief financial officer and chief operating officer of Kansas City University. In his role, Mr. Massman oversees the fiscal and administrative affairs of the University, ensuring that resources are efficiently and effectively allocated to support the strategic priorities of the University. He leads the functional areas responsible for finance, campus operations, facilities, human resources, compliance and legal affairs, and information technology.
Since joining KCU in 2011 he has helped lead the University through a period of tremendous growth, including the expansion of the Kansas City campus and development of the Joplin campus. He has provided leadership for upgrading and streamlining all operational systems of the University, including IT, human resources, facilities, and financial systems. He has also lead the strategic acquisition of real estate and the planning and execution of numerous new facility, renovation and maintenance projects.
Mr. Massman began his career in public accounting at KPMG, and went on to lead financial operations in both small start-up entities as well as larger, more complex organizations including Viacom, Express.com, Freightquote and the ETF Store. He has extensive experience in building sustainable financial and operational infrastructures in rapidly growing enterprises and in maintaining strong commercial and investment banking relationships. He also has broad experience in enterprise risk management and institutional governance matters.
He has presented extensively as an adjunct professor of finance at Rockhurst University and as both a speaker and a panelist on a range of topics, including personal investing, endowment management, overcoming gender bias, the repurposing of campus facilities, and use of cloud-based technology to enable organizational growth.
He has served as chair of the CFO Council of the American Association of Colleges of Osteopathic Medicine and was formerly a member of the American Osteopathic Foundation Board of Directors. He currently serves as a peer reviewer for the Higher Learning Commission. Locally, Mr. Massman serves on the board of Overland Park Regional Medical Center (an HCA Midwest Health hospital), the board of directors of St. Teresa's Academy, and on the investment committees of Avila University and the Diocese of Kansas City-St. Joseph.
Mr. Massman earned a Bachelor of Business Administration from the University of Notre Dame and a Master of Business Administration from New York University. He is a graduate of the Institute for Educational Management (IEM) at the Harvard Graduate School of Education.