College of Dental Medicine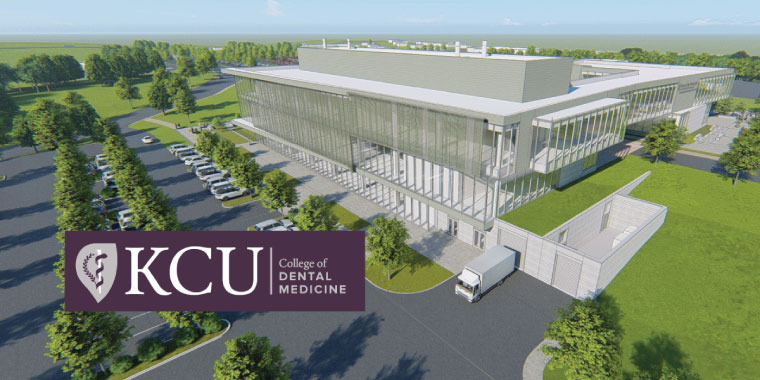 ---
Kansas City University's planned College of Dental Medicine is projected to open in 2022 at the Farber-McIntire Campus in Joplin, Mo., with a class of 80 students. The new college will address significant and growing oral health needs in the four-state region of southwest Missouri, northwest Arkansas, northeast Oklahoma and southeast Kansas. To make this dream a reality, KCU is investing more than $40 million into the development of this new school, and has a goal of raising $40 million in philanthropic support.
The planned college will utilize a general practice, community-based model. The dental curriculum will focus on early clinical training and issues related to community and population health. Once fully enrolled, the college will have 320 dental students each year. Fourth-year dental students will provide comprehensive oral health care to thousands of under-served patients in partner sites throughout the region under the supervision of adjunct faculty preceptors.
Read a Joplin Globe story about how the COVID-19 pandemic influenced the building design.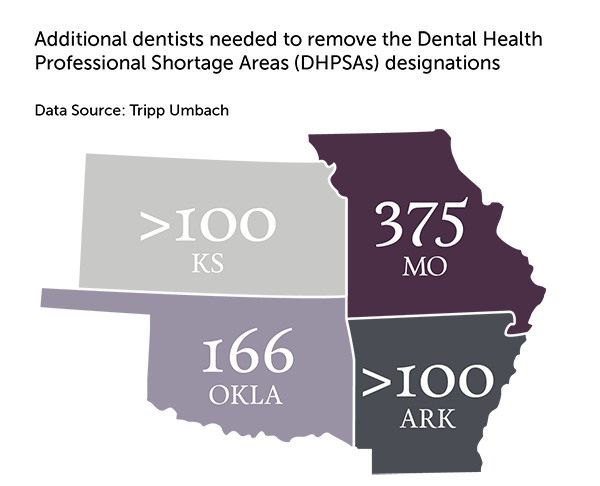 KCU's College of Dental Medicine will address the significant and growing oral health needs of the four-state region. With only three dental schools in the entire area, there is a challenge in training an adequate number of dentists to help meet these needs. Nearly all counties within a 125-mile radius of Joplin qualify as Dental Health Professional Shortage Areas (DHPSAs) by the U.S. Health Resources and Services Administration (HRSA).


Significant funding for the project comes from the generosity of the Harry M. Cornell, the Sunderland Foundation, Dr. Larry McIntire and Mr. Rudy Farber and the Farber Foundation. If you're interested in supporting KCU's College of Dental Medicine, please contact the Office of Advancement at alumni@kcumb.edu.
National Oral Health Need Facts
The demand for dentists national will outpace growth in the supply of dentists in 2025.
More than 46 million people in the US live in Dental Health Professions Shortage Areas (DHPSA) and lack basic access to dental care.
7,000 dentists are needed to eliminate these shortages and another 8,600 to have adequate care in 2025.