White Coating Ceremonies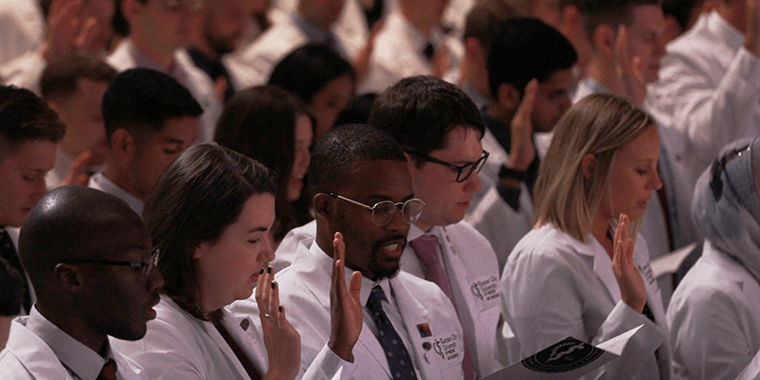 ---
The White Coating Ceremony is a traditional and symbolic event that marks your transition from pre-clinical studies into the medical profession and hands-on clinical practice with patients. It signifies your commitment to your medical education, future medical practice and adherence to the Osteopathic Oath.
College of Osteopathic Medicine
See below for details on the ceremonies.
KCU-Joplin Campus

Class of 2025

Class of 2026

---

KCU-Kansas City Campus

Class of 2025

Class of 2026
---
COVID-19 Protocol

As of July 21, 2022
Given the current state of the COVID-19 disease burden and community impact levels, KCU has deemed it necessary to adjust our COVID-19 protocol for the upcoming White Coating Ceremonies that will take place in Kansas City on July 23 and in Joplin on July 30.
In order to best protect our loved ones, community members and ourselves, we will require all KCU students, faculty, and staff attending the ceremonies to wear masks.
While we will not strictly enforce the same of family members and friends in attendance, I ask each of you, as representatives of the health science community and as future medical professionals, to strongly encourage your guests to also wear masks. I hope you will help us get this important message to family and friends who will be in attendance.
Please plan to bring your own mask. We will have a limited supply for any guests who may arrive without one.
If you are symptomatic or have tested positive for COVID-19 within five days prior to the ceremony, we ask that you do not attend White Coating. We ask the same of your guests.
Thank you for your cooperation in this important matter.