Linda C. Niessen, DMD., MPH., MPP
Professor and Founding Dean, College of Dental Medicine and Vice Provost, Oral Health Affairs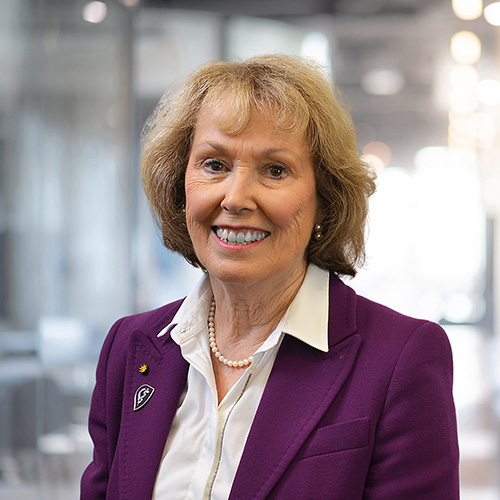 Linda Niessen, DMD, joined Kansas City University in 2020 as professor and founding dean for the College of Dental Medicine and vice provost for Oral Health Affairs. Prior to joining KCU, she served as dean and professor at Nova Southeastern University (NSU) College of Dental Medicine from 2013 to 2019. Dr. Niessen had a career in the dental industry as chief clinical officer for Dentsply International, a global dental manufacturing company from 1998 to 2013. Before joining Dentsply, she was a professor and chair, Department of Public Health Sciences at Baylor College of Dentistry (now Texas A&M College of Dentistry). Dr. Niessen started her career as a commissioned officer in the US Public Health Service, Division of Indian Health, where she worked for the Choctaw Nation of Oklahoma in Talihina, Oklahoma.
Dr. Niessen has authored over 80 peer-reviewed publications, numerous chapters and a textbook, Geriatric Dentistry: Aging and Oral Health. She is a diplomat of the American Board of Dental Public Health and the American Board of Special Care Dentistry. She has provided clinical care to medically complex patients at VA Medical Centers in Boston and Dallas.
She has been active professionally in numerous organizations and served as president of the American Academy of Esthetic Dentistry, the American Academy of Public Health Dentistry, the American Association of Women Dentists, the American Board of Dental Public Health, Dallas County Dental Society, and the Friends of the National Institute of Dental and Craniofacial Research. She is the recipient of numerous awards for her service to dentistry and the dental profession, including the 2017 Paragon Award presented by the American Student Dental Association for her support of dental students.
Dr. Niessen received a Doctor of Dental Medicine, cum laude, a Master's in Public Health and Master's in Public Policy all from Harvard University. She received a Bachelor of Arts in Chemistry (Phi Beta Kappa) from the University of New Mexico.