Robert White MS, PhD
Dean, College of Biosciences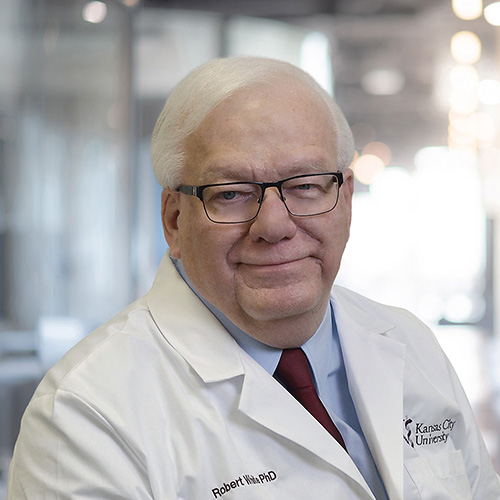 Robert White, PhD, was named dean of Kansas City University College of Biosciences in 2014 after serving as associate dean for one year. Dr. White has also served as professor of Biochemistry for KCU since July 2012. Under his leadership, the Master of Science in Biomedical Sciences program has grown from 30 students to over 120 students per year with 85 percent of graduating students going on to professional programs, including medical school, dental school, pharmacy doctorate schools and optometry school, as well as PhD programs in the biomedical sciences. During his tenure as dean, the COB has added a Doctor of Clinical Psychology program within the Health Service Psychology department. The COB is also now home to a Bioinformatics research track begun in 2020, which is expanding the possibilities for professional development of students within the master's graduate program. The MS biomedical sciences program has generated over 800 graduates who have gone on to careers in biomedicine including the biotech industry, biomedical research and health care professions.
Dr. White received a Bachelor of Science in Biology from the University of Massachusetts at Boston and a Master of Science in Biology from Boston College. He was trained at The Jackson Laboratory in Bar Harbor, Maine, where he performed his PhD research for which he was conferred a doctoral degree from Boston College. His post-doctoral fellowship at Harvard Medical School and Children's Hospital in Boston in the Hematology/Oncology Division further prepared him for his research career with an emphasis in mouse genetics and hematology. Before transferring his research program to KCU, Dr. White was director of the Mouse Genetics Research Laboratory and DNA Diagnostic Lab at Children's Mercy Hospital in Kansas City for 17 years.
Dr. White is the author of over 80 publications in peer reviewed journals, including the New England Journal of Medicine, Blood, Genomics, Proceedings of the National Academy of Sciences USA and Nature Genetics. His research program focuses on the identification of gene defects in mouse models of hematology and human genetics disease (Duchenne Muscular Dystrophy, AMKL leukemia, Iron Overloading disease) and the discovery of new therapies to treat those diseases. Dr. White has been the recipient of several extramural grants including a large grant from the March of Dimes. He received a Kansas City Science Pioneer Award from the March of Dimes in 2004.