(KANSAS CITY, Mo. – February 2, 2022) – Kansas City University (KCU) today announced that it has been awarded more than $1.6 million in federal funding in the form of a grant from the Health Resources and Services Administration (HRSA), an agency of the United States Health and Human Services (HHS) Administration. The grant is part of HRSA's Health and Public Safety Workforce Resiliency Training Program and will support KCU's efforts to enhance resiliency and coping skills for early-career health care professionals.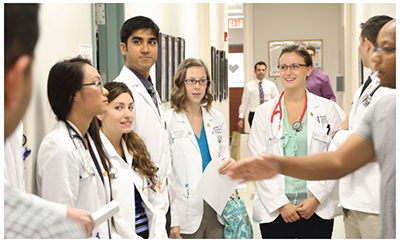 "At KCU, the health and well-being of our students is our greatest priority. Training the next generation of physicians and other health care professionals to provide the best possible care begins with ensuring students have the tools to take care of themselves," said Edward O'Connor, provost and executive vice president for Academic, Research and Student Affairs. "With this grant, we will provide training and resources early in our students' health care careers to help them better navigate and adapt to the challenges of their professional and personal lives."
HRSA's Health and Public Safety Workforce Resiliency Training Program provides funding for early training related to coping and resiliency, particularly in rural and underserved communities. KCU is one of 34 grantees and the only institution based in Missouri. KCU will receive $1,576,449 over the course of three years.
During the three-year period, KCU will center its approach to resiliency training by creating a scalable program called Thrive, with the goal to help its health sciences students build resilience and decrease burnout throughout the entirety of their medical careers. Thrive is built on two foundational components: curriculum and connections. As a holistic, enterprise-wide learning enhancement program, it will include resiliency training combined with co-curricular activities, advising/coaching, data analytics, supporting services, and an emphasis on inclusivity.
###
About Kansas City University
Kansas City University, founded in 1916, is a fully accredited, private not-for-profit health sciences university with Colleges of Osteopathic Medicine, Biosciences and a developing College of Dental Medicine. The College of Osteopathic Medicine is the seventh largest medical school in the nation, the ninth most impactful medical school in primary care for the nation, the tenth most affordable of private medical colleges, and key educator of physicians, health professionals and scientists for both Missouri and Kansas. The College of Osteopathic Medicine has two sites strategically located on the University's campuses in Kansas City and Joplin, Missouri, to address the growing needs of both urban and rural populations. The University offers multiple graduate degrees: a doctor of osteopathic medicine; a doctor of psychology in clinical psychology; a master of arts in bioethics; a master of science in biomedical sciences; a master of business administration in partnership with Rockhurst University; a new master of public health in partnership with the University of Nebraska Medical Center; and plans to seat the first doctor of dental medicine students in 2023.
Media Contact:
Haley Reardon
Manager of Marketing & Communications
417.208.0664 (office)
417.592.2223 (cell)
hreardon@kansascity.edu