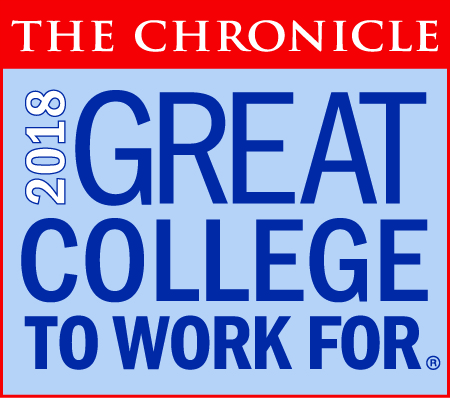 The Chronicle of Higher Education, a respected source of news and information for college and university faculty members and administrators, has named Kansas City University of Medicine and Biosciences (KCU), as one of the United States "Great Colleges to Work For."
KCU was recognized in two categories: Compensation & Benefits and Facilities, Workspace & Security. Recognition in these two categories means KCU was among the 10 highest- scoring institutions among the 53,000 respondents at 253 institutions. Results are reported for two-year and four-year colleges.
"KCU is pleased to be able to provide a work environment and compensation and benefits that attract top-notch faculty and staff and support their ability to ensure the success of our students — our number-one priority," said Marc B. Hahn, DO, president and chief executive officer of KCU. "We are honored to be recognized nationally for our commitment."
The survey was administered by ModernThink LLC, a human resources consulting firm based in Wilmington, Del. It is based on a survey that has been used in 55 "Best Places to Work" programs and more than 4,000 organizations. Survey results are based on a questionnaire about institutional characteristics and a faculty/staff questionnaire on individuals' evaluations such as these:
"The overall vibe of the institution is positive. The faculty and staff are very committed to the success of the medical students. The security department is one of the very best things about working. The retirement and matching is amazing. I can tell that the institution is making strides to incorporate more wellness and diversity into the culture."
"I believe that KCU is an institution that is truly serving our students and communities. I greatly appreciate the opportunity to work at a student-centered university."
For more information and to view all of the institutions on the 2018 Great Colleges to Work For list visit The Chronicle's website.