As new students embark on their graduate degree programs at Kansas City University, assistant professor Ryan Sheehy, PhD, also takes on new-student status through Johns Hopkins University where he recently enrolled in the Masters in Education in the Health Professions (MEHP) program.
In his dual role as professor and student, Sheehy presented at the MEHP Summer Conference 2019 in Baltimore. The project is titled "Enhancing student learning outcomes by teaching antibiotics with a novel quizzing program."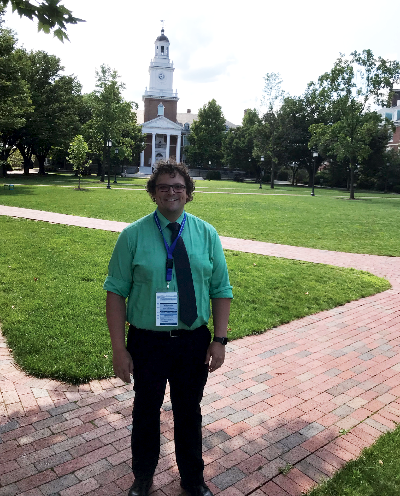 KCU student doctor Michael Kortz (COM 2021) has worked on this research project with Sheehy. Kortz shared that Sheehy has become a mentor and he considers him to be a data-driven, tech-savvy teacher.
"My work with Sheehy has provided a big-picture mindset into how researchers think creatively about problems and aim to answer relevant questions," Kortz said. "Besides the 30,000-foot view, I have learned a lot of technical skills about research – from abstract submissions to the Institutional Review Board (IRB)."
"Preparing to present was exciting and nerve-racking at the same time," Sheehy said.

Sheehy explained how he enjoys being a professor for student collaborations and exchanges.
"Hands down, when it comes to being a professor, I enjoy interactions with students, and any day I get to do research with, advise, or just eat lunch with a student, is a good day."
Throughout Sheehy's life and while traveling the road toward this master's degree, he's met intersections of science and education.
"In high school, I had an excellent chemistry teacher who made the science and math of chemistry come alive for me. In college, I had the opportunity to do summer research at the University of Iowa, which allowed me to fall in love with the biological application of chemistry and small molecules (i.e., pharmacology)," Sheehy explained. "This led to my passion for mechanism of action; my graduate work was like a detective adventure as I worked to figure out the mechanism of a new set of chemotherapeutics called 'the schweinfurthins.'"
After his graduate degree was completed, Sheehy's family and his love of the Kansas City Chiefs lured him home, as well as the opportunity to teach pharmacology at KCU.
"Osteopathic medical schools let me focus on teaching and I was looking for a job that would keep me in the Midwest," Sheehy said. "I co-teach a class on 'teaching' to the university's osteopathic manipulative medicine (OMM) and anatomy fellows. I didn't think that was going to be something I was interested in, then that snowballed into me doing educational research and that snowballed into me attending Johns Hopkins."
With his passions for research and education intersecting again, this time through Johns Hopkins, Sheehy finds himself growing in his love for science and his students' growth.
"I enjoy the moment you can sense learning has occurred. This will likely be a lifelong pursuit for me because learning can occur differently for all students," Sheehy explained. "It's a vulnerable exercise to teach, but I do it because it brings me joy and a certain satisfaction that I may have helped a future patient by imparting a tiny bit of my wisdom to that future physician. I honor my inner self when I teach because deep down, I strive to help others become the best they can be."