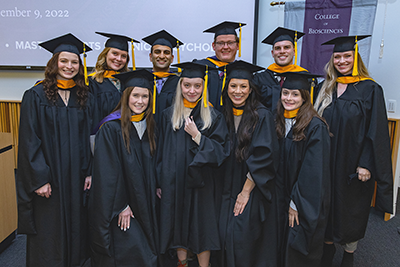 On December 9, KCU celebrated the Doctor of Psychology (PsyD) program's Pinning and Hooding observances by hosting an in-person pre-ceremony reception for our students with friends and family joining via livestream for the ceremony that followed.
Our 10 third-year PsyD students processed into the event space donning caps and gowns and, following the words of our president and CEO, Dr. Marc Hahn, were granted their master's degree in our hooding ceremony. Each master's candidate received personalized remarks from their advisor who followed their comments by hooding the new master's degree recipient. This was intended to honor what can be years of working closely together, a time during which a faculty member guides an aspiring scholar through their evolution from a student to a future colleague. These students, now eligible for their clinical rotations, will help meet the growing need for mental and behavioral health care in our area and are well on their way to achieving their doctorate in clinical psychology.
KCU's Pinning tradition honors students embarking upon a new path in their career development. This year, 18 PsyD students received their pin.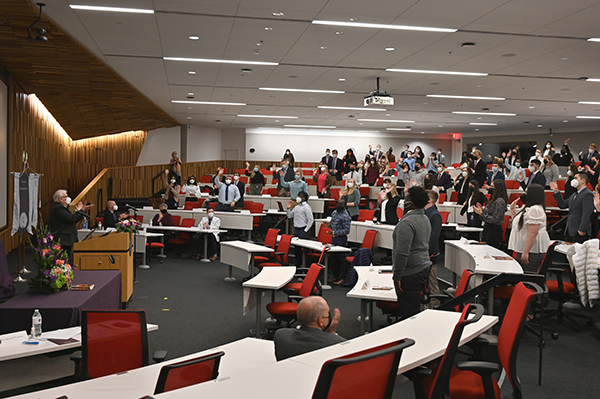 January 25th, we celebrated the College of Biosciences' Pinning Ceremony with 120 one-year pre-health professions biomedical sciences track students; 8 students in the two-year research track; and another 7 two-year research track students from the Class of 2022 who we were not able to recognize last year due to COVID restrictions. While our students were physically present for this celebration, the program was livestreamed to share with loved ones. Individually packaged grab and go reception boxes were provided to our students as they exited.
The Pinning Ceremony is an important milestone in our student's academic and professional journey. The occasion provides an opportunity to congratulate our students for the dedication, effort and intellect that brought them here, while encouraging future academic success.
We commend our students' commitment and devotion to improving the well-being of the communities they serve.