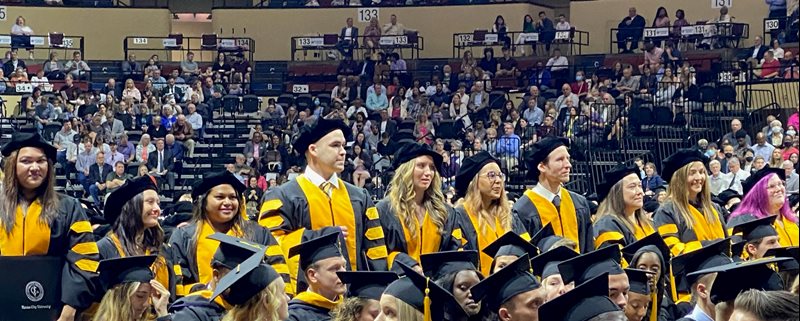 Kansas City University (KCU) celebrated its first 10 students to receive a doctorate of clinical psychology degree during Commencement Exercises May 7, 2022.
The APA accredited, five-year PsyD program launched in 2017 as part of KCU's commitment to serve the growing need for doctoral-level clinicians in the area of mental and behavioral health.
"This first class has been the bedrock of our program," said Sarah Getch, PhD, program director, professor of health service psychology and assistant provost for accreditation. "From the moment they arrived, they were here to do the work. Despite being from a new program, they had tremendous success year over year at their practicum sites and then again later when they matched at a 100% match rate."
Many of the graduates will remain in the Kansas City area for their postdoctoral training and will serve the immediate community. Additionally, several have inquired about returning to KCU to teach future cohorts.
"This class has made a significant impact on KCU by forging the way for future PsyD students," said Getch. "The faculty will forever be grateful for their hard work and perseverance as they navigated the growing pains of new program. We wish them much success."