Kansas City University (KCU) took another step forward in advancing health care in the Joplin community by continuing a program dedicated to insuring bright minds remain in Joplin to practice medicine and dentistry. Leaders from KCU and Missouri Southern State University (MSSU) gathered on the campus of MSSU to sign a new partnership agreement on Friday, September 9, 2022. The agreement cements an early acceptance program for KCU's medical and dental schools.
The MSSU-KCU Early Acceptance Program (M-KEAP) will establish an annual cohort of up 35 students. KCU's College of Osteopathic Medicine will accept 25 MSSU students per year. The College of Dental Medicine will accept 10 students from MSSU. Qualifying students will be able to complete their baccalaureate degree with an accelerated, three-year curriculum before making a seamless transition to KCU. The goal of the program is to offer local students the opportunity to attend medical and dental school in their own community where there is a shortage of physicians and dentists.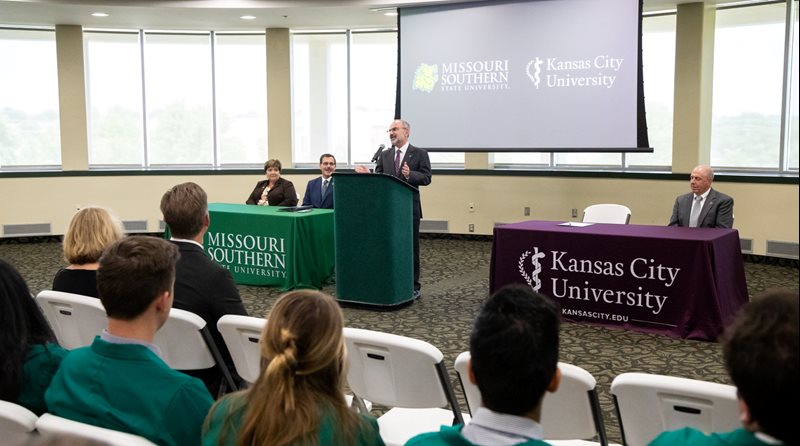 "Missouri Southern State University has been a key partner for Kansas City University even before we opened our Joplin campus, and we are excited to expand the MKEAP program to include our new College of Dental Medicine," said Marc B. Hahn, DO, president and chief executive officer at Kansas City University.
"This is an important day for future Missouri Southern and KCU students, as we expand a unique partnership that will provide opportunity for MSSU freshmen to complete a challenging three-year program of study at MSSU, knowing that they have early acceptance to a high-quality dental school," said Dr. Dean Van Galen, president of Missouri Southern. The early acceptance program partnership between Missouri Southern and KCU was first formalized in December 2015. It allowed students at MSSU to be admitted to the then new KCU medical school at the same time.
"KCU has now welcomed three classes of MSSU Biology graduates," Hahn said. "We look forward to conferring degrees on the first MKEAP class in the spring of 2024 and welcoming our first class of MKEAP dental students directly in the fall of 2026. Together, Missouri Southern and KCU can recruit and retain many talented students from the region who will ultimately improve access to medical and dental care right here at home."