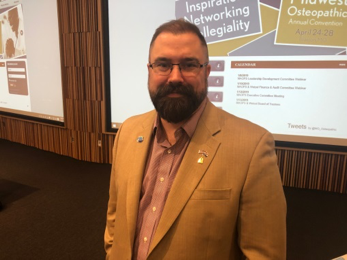 The future of telemedicine is rapidly changing, according to David Tannehill, DO, and president of Missouri Association of Osteopathic Physicians and Surgeons (MAOPS).
"We are just now trying to get comfortable with the idea of telemedicine. I think its use is expanding," Dr. Tannehill said.
During a recent visit with KCU students, Dr. Tannehill spoke about his career, the future of osteopathic medicine and his telemedicine experience. Telemedicine is where health care professionals can evaluate, diagnose and treat patients located in different locations using telecommunications technology.
"Right now, it's sort of looked at as this niche add-on sort of thing," Dr. Tannehill added. "I think the time is not too far in front of us where it's going to be just as common as the telephone and fax machine used to be."
The internal and critical care medicine specialist spends much of his time in the ICU at Mercy Hospital in St. Louis. He said he was drawn to work in the ICU at a young age. A former football coach, Dr. Tannehill describes critical care like a team sport adding, "You work with a team to make and execute decisions."
Dr. Tannehill estimates approximately 30 percent of his time is devoted to telemedicine. He expects telemedicine will only continue to grow.
"It's going to be what the public demands," Dr. Tannehill added.
"I believe that telemedicine is already impacting health care and will continue impact health care in the future," said Schoen Kruse, PhD, KCU associate dean of curriculum and integrated learning.
"A quick search for concierge physician practices using telemedicine shows how the ability to connect using programs like Skype or FaceTime is changing how health care is delivered. Telemedicine, or telehealth, will only expand as our global world gets smaller."
Dr. Kruse also believes Dr. Tannehill's message resonates with today's medical students.
"Most of today's learners have grown up in a world where a camera and a cell phone are the same thing and endless amounts of information have always been available at their fingertips. They are already comfortable connecting via videoconference and are, in fact, learning through video recordings and presentations in our curriculum. Learning to deliver health care via telemedicine will be more of a natural transition for our current students compared to graduates 10-20 years ago." Dr. Kruse said.
But despite changes and advances in health care due to technology, Dr. Tannehill reminds students about the importance of the personal connection between doctor and patient.
"The patients and their well-being becomes the most important job," he said. "If you push back, you're not going to be the best physician you can be."