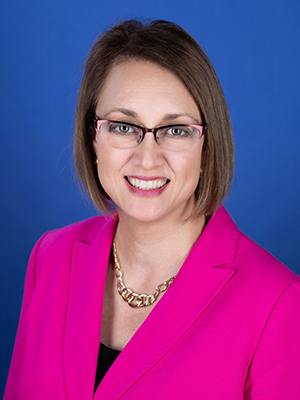 (Kansas City, Mo. – July 9, 2021) Kansas City University (KCU), has named Jennifer Ingraham as the university's next vice president of Philanthropy and Alumni Relations.
Ingraham comes to KCU from the University of Missouri- Kansas City Foundation where she has led a team of major gift officers and played a key role in advancing the mission and vision of the university. In her role at UMKC Ingraham was instrumental in reaching and exceeding foundation fundraising goals and raised the visibility of the foundation throughout the Kansas City community. Prior to her work at UMKC, Ingraham led philanthropy efforts at the Kansas City Repertory Theatre, Park University and the Kansas City Symphony.
"Jennifer brings experience, enthusiasm and a heart for philanthropy to KCU," said Marc B. Hahn, DO, president and CEO of KCU. "She has a deep understanding of KCU's vision to be the most student-focused health science university in the nation, and the importance of philanthropy to that end. Jennifer has vast experience in developing and implementing programs that engage alumni and inspire donors. She will make an excellent addition to our team."
As vice president of Philanthropy and Alumni Relations, Ingraham will lead and manage a team tasked with achieving philanthropic goals for major gifts, capital campaigns, scholarships, medical missions and KCU's unique program of community outreach Score 1 for Health (link). Additionally, she will continue to build awareness and achieve continued goals for KCU's proposed College of Dental Medicine set to open on its Joplin, Missouri campus in the fall of 2023.
"Kansas City University has such momentum, both in Kansas City and Joplin," said Ingraham. "I am looking forward to joining the KCU leadership team to continue building on the culture of philanthropy that clearly exists. In partnership with the board, alumni, and the communities they serve, I believe KCU will continue the tremendous growth it has experienced under Dr. Hahn's leadership."
Ingraham will step into the role previously held by Jane N. Lampo, EdD, CRFE, who retired in June. Lampo's philanthropic achievements included helping to raise more than $140 million over the past eight years to build a second medical school campus in Joplin, a technically advanced Center for Medical Education Innovation in Kansas City, and a College of Dental Medicine in Joplin.
"Jane leaves an incredible legacy of giving at KCU" said Hahn. "She laid the groundwork for future success. I couldn't be more pleased that Jennifer has agreed to join KCU to continue our important work."
Ingraham is a native of Rogers, Arkansas. She earned a master of science in journalism from the University of Kansas and a bachelor of arts in communications from Drury University in Springfield, Missouri.
Ingraham's volunteer activities include the Missouri Community Service Commission to which she was appointed by Gov. Mike Parson. She was appointed to the PIEA Crossroads Arts Advisory Committee of Kansas City by former Kansas City Mayor Sly James. Ingraham sits on the Win for KC Advisory Board, and is active in the Madame President Camp, the Coterie Theatre Board and the Tri-County Mental Health Services Foundation Board.
---
About Kansas City University
Kansas City University, founded in 1916, is a fully accredited, private not-for-profit health sciences university, with a College of Biosciences and a College of Osteopathic Medicine. The College of Osteopathic Medicine Is the eighth largest medical school in the nation, the tenth most affordable of private medical colleges, and the leading producer of physicians for the State of Missouri. The College of Osteopathic Medicine has two campuses strategically located in Kansas City and Joplin, Mo. to address the growing needs of rural and urban populations. The University offers multiple graduate degrees in addition to doctor of osteopathic medicine, including a doctoral program in clinical psychology, a master of arts in bioethics and a master of science in biomedical sciences. The new College of Dental Medicine in Joplin, Mo. is scheduled to seat its first class in August of 2023.
Contact: Elizabeth Alex
Public Affairs Director
(816) 304-9498 (cell)
ealex@KansasCity.edu