The leadership, faculty, staff, and students of Kansas City University were saddened to learn of the passing of Harry Cornell.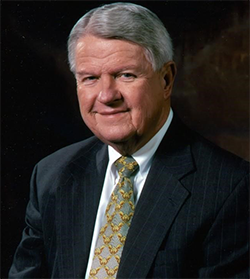 Mr. Cornell has long been a leader in the Joplin region, whose well-known genius as a businessman was only surpassed by his compassion for the community.
Harry Cornell's contributions enabled the dream of a KCU-Joplin medical school campus to become reality. His generosity contributed not only to the construction of the campus, but to research and student scholarships that will benefit the people of Joplin for generations to come.
Mr. Cornell continued his philanthropic giving beyond the medical school. He had a keen understanding of the importance of overall health for the entire four-state region. Thus, he was one of the first to signal his support for building the College of Dental Medicine which recently received full accreditation and will seat its first class in the summer of 2023.
"Mr. Cornell was someone I admired greatly," said Marc B. Hahn, President and CEO of KCU. "His values mirrored our university's mission and vision. KCU and our students have been and will continue to be blessed by his generosity and love for this community."
Harry Cornell provided KCU and the Joplin region with a level of philanthropy and commitment to service that is both rare and inspiring. While his monetary contribution can be tallied, the deep impact of his service cannot be fully measured.