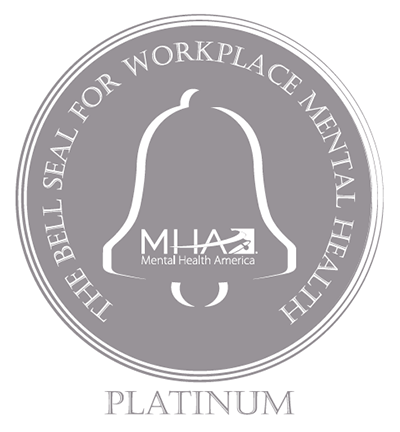 We are proud to announce that Kansas City University (KCU) has been awarded the 2022 Platinum Bell Seal for Workplace Mental Health by Mental Health America (MHA). The Bell Seal is a first-of-its-kind workplace mental health certification that recognizes employers who strive to create mentally healthy workplaces for their employees.
"The COVID-19 pandemic, social justice issues and recent troubling events overseas, to name a few, have had a profound impact on the mental health of people of all ages. Championing workplace mental health is an evolving journey. However, investing in our employee's well-being remains a firm commitment for KCU, and we appreciate the trust our people have placed in us to continue transforming our work culture," said Jamie Hirshey, Director of Human Resources.
HIGHLIGHTS
Research shows that volunteering offers many health benefits, including improved physical and mental health. At KCU, we believe in work-life balance and encourage our people to take time off to focus on service to do good in our community. In fact, one of the University's most beloved benefits is the four paid community service days (32 hours) per year.
Despite the disruption of the pandemic, KCU continued to keep employees engaged, connected and served with alternative wellness options. Focused on mental health, KCU introduced monthly Mental Break Fridays with yoga, guided meditation and complimentary chair massages to help ease stress and anxiety. Use of our employee assistance program has steadily increased as a result of ongoing education and promotion. In the summer of 2021, KCU also offered a combination of virtual and in-person support sessions with a behavioral health specialist to help ease the transition to on-campus work.
MHA - founded in 1909 - is the nation's leading community-based nonprofit dedicated to addressing the overall mental health of all. MHA has spent decades researching mental health in the workplace, and in 2019, MHA introduced the Bell Seal for Workplace Mental Health to recognize companies and organizations that understand the value of addressing mental health at work and implement policies and practices that support employee well-bein
The Bell Seal recognizes employer advances in workplace mental health by awarding Bronze, Silver, Gold, and Platinum recognition levels. KCU underwent a rigorous evaluation of its policies and practices in four areas: workplace culture, benefits, compliance, and wellness programs. Our status as a Bell Seal-certified organization KCU's ongoing commitment to employee mental health and well-being.
KCU is committed to providing the best for our employees and looks forward to our continued work to ensure we uphold the standards set forth by the Bell Seal for Workplace Mental Health.
You can learn more about MHA and the Bell Seal for Workplace Mental Health at mhanational.org/bestemployers.