Kansas City University of Medicine and Biosciences celebrated science with its annual Research Symposium, held March 20 at both the Kansas City and KCU-Joplin campuses.
"Research provides a better educational experience for our students," noted Edward O'Connor, PhD, executive vice president for academic and research affairs. "It makes our medical students more competitive for residencies and makes us more knowledgeable as consumers."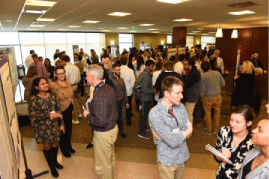 More than 1,000 students, faculty, staff and guests attended the event, including a group of high school students in a biosciences pathway in the Blue Valley School District CAPS program.
"This is a day of discovery. Our students are fighting cancer, hematological diseases, physical diseases and sharing their research with each other," said Robert White, PhD, dean of the College of Biosciences.
The 2019 Research Symposium included a keynote talk by KCU alum Joseph McGuirk, DO, (COM '90), about the revolution in cancer treatment, CAR-T. "We can now see light at the end of the tunnel," Dr. McGuirk told students who packed into the academic center. "The days of chemotherapy are numbered as we tap into the immune system. This is a most exciting time to be a physician."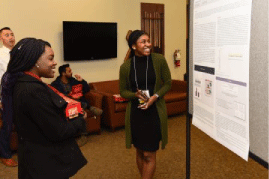 Student, faculty and guest presentations included research on the impact of congestive heart failure on short-term in-hospital outcomes for patients with acute traumatic brain injury, a comparative analysis of platelet proteolytic machinery in Alzheimer's Disease, a psychiatry residency yoga training experiment, and a presentation on health disparities across diverse populations by Tamara Baker, PhD, of the University of Kansas psychology department.
Callie Torres, a second-year medical student at KCU-Joplin, studied the challenges of medical student burnout. "My research aims to look at what extracurricular resources students are using throughout years of one and two and correlate it to their burnout level. My goal is to create a guide that can be handed out at the beginning of first and second year to the incoming students that contains information and statistics on what resources are most beneficial in order to help lower burnout levels."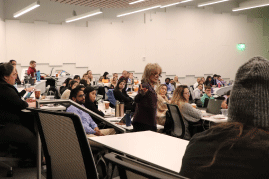 "It's a good way to meet a lot of people and listen to their ideas," said Eugene Ismailov, a KCU anatomy fellow. "We aren't limited to any particular topic so I'm here to learn about orthopedic surgery, pediatrics, internal medicine. It kind of expands the scope of my knowledge and hits on a lot of things I was interested in and things I've never heard of."
Student's presentations also competed for several awards.
Oral Presentation Winner
Andrew Dang (Anatomy Fellow)
"Impact of Congestive Heart Failure on Short-Term In-Hospital Outcomes for Patients with Acute Traumatic Brain Injury"
First Place In Poster Presentation
James Yang, OMS III
"Vascular Defects in Doxorubicin Treated Mouse Hearts: Focus on Capillaries"
Second Place In Poster Presentation - Tie
Cameron Hanson, OMS II
"The Impact of Chronic Obstructive Pulmonary Disease and Hospital Teaching Status on Mortality, Cost, and Length of Stay in Elective Total Hip Arthroplasty Patients"
Joseph Pankratz, OMS IV
"Depth Transitions of the Frontal Branch of Facial Nerve: Implications in SMAS Rhytidectomy"
"Events such as these are important, said Dr. Laura Rosch, KCU-Joplin campus dean. "Every treatment, diagnostic tool or medication that a doctor uses has developed as a result of research. It is important for medical schools to teach students that being involved in research will contribute to the innovative care of their patients in the future."