Kansas City University not only seeks to improve the health and well-being of communities and families it serves, it also offers opportunities to train the next generation of researchers in the quest to find treatment and cures for the family pet.

Through a partnership with Likarda, a biotechnology research firm, KCU biosciences student Amy Wysong is working on new treatments for diabetes in cats that can translate to dogs as well.

"Cats can develop diabetes similar to humans," Wysong said. "But treatment is really complex and ineffective, mostly since they can't voice symptoms."

KCU faculty members network with laboratories in the Kansas City Animal Health Corridor, giving students the opportunity to work alongside researchers. The program allows Wysong to attend class on campus while learning valuable on-the-job skills at Likarda.

Plus, as Wysong says, the opportunity allows her to become part of something significant.

"I'm evaluating a protocol that could 'trick' a cell that does not produce insulin into producing it," she explained. "That would be really advantageous for pet owners and potentially for humans because the cat would no longer be dependent on their owner for insulin injections and blood sugar checks."

"The care of our pets and livestock is a very important issue to us at KCU," said Robert White, PhD, dean of the College of Biosciences. "Participation in studies of animal health may lead to innovations in human health care. Amy's participation in the treatment of a beloved companion benefits the health of the animal and the humans who care for them."

Wysong's advisor, Douglas Bittel, PhD, notes that work in commercial laboratories prepares biosciences students to step more seamlessly into the arena of animal health research.

"Not only will students learn protocols and equipment, they will have a better understanding of the industry," Bittel said. "It's obvious that being exposed to as many role models as possible is helpful to students. It is also a window into the sheer effort it takes biotech companies to bring drugs to market and the process of working with the Food and Drug Administration."

Wysong notes that her work in the real world taught her an important lesson all scientists must accept—that failure plays just as big of a role in research as success.

"Likarda has taught me that troubleshooting can actually be a really useful part of life as well as science. In research, there a lot of disappointments and failures, but it's important how we fix those experiments that didn't go well."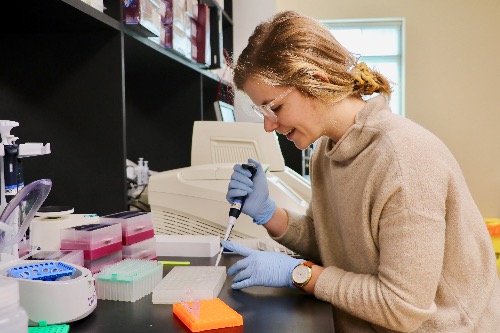 For students such as Wysong, research in the animal health field also offers the chance to hone presentation skills and build curricula vitae. Wysong represented KCU at a One Health Day research symposium held at Kansas State University's Olathe campus in the fall of 2019, where she won the graduate poster presentation division.

"From my perspective, the event was a great way to showcase the work our team has done," she said. "Even more exciting, we are working hard right now to submit a manuscript for publication."

If the protocol is successful, this work will be a relief to pet owners, and great accomplishment for scientific research.