As the world of science looks for cures in the battle against dementia, researchers have identified a new enemy. A newly-named pathway to dementia that has always existed, but now has a name: Limbic-predominant Age-related TDP-43 Encephalopathy, or LATE.
Kansas City University (KCU) professor and researcher Abdulbaki Agbas, MSc, PhD, is part of the urgent quest to study and understand the disease.
"Dementia is an umbrella." said Agbas. "Many people confuse it with Alzheimer's disease. Not everyone with dementia has Alzheimer's, but everyone with Alzheimer's has dementia. It is critical to analyze what exactly is happening in the brain."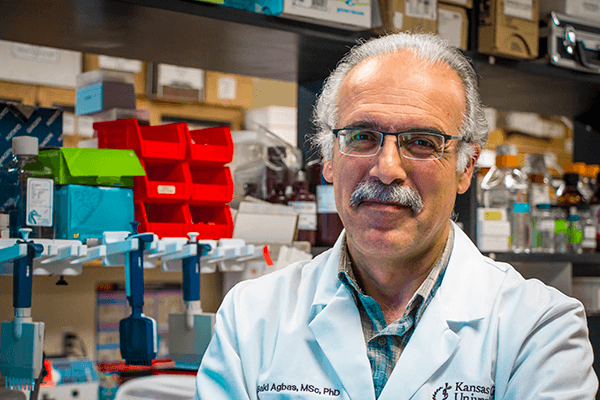 The new recognition of LATE was recently published in the journal Brain, by Peter T. Nelson of the University of Kentucky Sanders-Brown Center on Aging and a large international group of researchers. This dementia occurs around or after the age of 85; "the oldest of the old," as it is known. The telltale sign of this dementia is an out-of-control protein called TDP-43. "LATE is under-recognized with a large impact on public health," Agbas noted. "At least as large as Alzheimer's disease."
Agbas is collaborating with Nelson by testing post mortem blood samples in his lab at KCU. He is looking for "aberrant" TDP-43 proteins in cells that become toxic in the brain. "There is a multifaceted process that causes it, but this nuclear protein is a hallmark of late life dementia," Agbas said.
Agbas' hope is to find early biomarkers in the blood that can provide physicians a tool to diagnose it. "Can we find this early and stop the process? If you know the behavior of the protein and it will form the aggregate and malfunction, then a pharmaceutical intervention could be developed to suppress it."
For scientists at KCU and around the world, finding the causes of LATE cannot come soon enough. "People are living longer," Agbas said. "We must work together in order to identify the disease early so that we can develop treatments and a cure."
---
Read about LATE study abstract