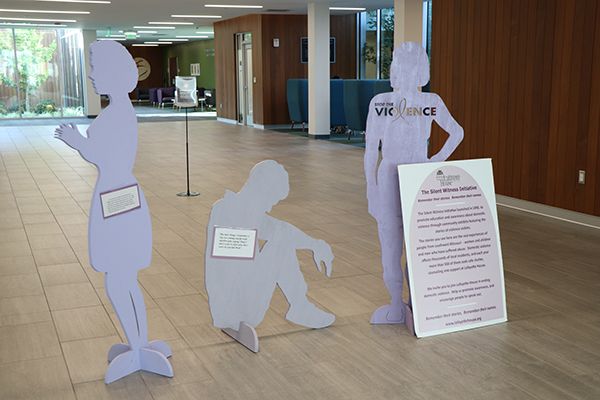 KCU-Joplin recently teamed up with Lafayette House and displayed their Silent Witness Exhibit to increase awareness for the tragedies of domestic violence affecting an estimated 10 million people nationwide every year. The traveling exhibit features life-size silhouettes and domestic violence survivor stories.
Lafayette House provides services for victims of domestic violence on a residential or outpatient basis as well as individual, group, and family counseling; onsite licensed child care; children's therapy; and an array of support services all offered at no charge. In a typical month, Lafayette House receives as many as 200 calls to their hotline from clients, primarily women ages 22-39, seeking help for themselves and their young children. The organization observed National Domestic Violence Awareness Month throughout October with its traveling exhibit entitled Silent Witness.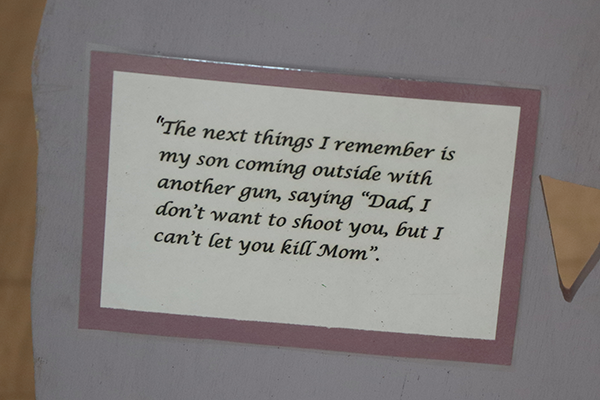 KCU's partnership with Lafayette House stretches far beyond housing the traveling exhibit. First-year students in the College of Osteopathic Medicine volunteer at the site during KCU's annual WE CARE Day, giving students an opportunity to put the University's mission— improving the wellbeing of the communities we serve—into action. Additionally, the KCU-Joplin Chapter of the American Medical Women's Association serves meals at Lafayette House once a month and the OB/GYN Club hopes to establish a schedule with monthly volunteer opportunities for students later this fall.
While pandemic-related stay-at-home orders initially helped curb the spread of coronavirus, they also provided fertile ground for increased cases of domestic violence to take root. In the spring of 2020, as the pandemic began to take shape, Lafayette House in Joplin remained open to assist victims of domestic violence both in-person and via Zoom.
How can you help? While volunteering at Lafayette House makes a significant difference, KCU faculty, staff, and students can also help raise awareness by sharing the organization's social media posts; collecting and contributing supplies such as paper products, towels, pillows and toiletries; or by giving financial support. To learn more, contact Louise Secker, Lafayette House director of development at (417) 782-1772 or visit https://lafayettehouse.org.