Kansas City University (KCU) students officially began their osteopathic medical school careers with a white coating ceremony on July 28, 2019, at Kauffman Center for the Performing Arts. The white coating ceremony symbolizes entry into the practice of medicine and emphasizes the values of compassion, selflessness, honesty and dedication to service, the principles on which osteopathic medicine was founded.
Marc B. Hahn, DO, president and CEO of KCU congratulated the 270 new students.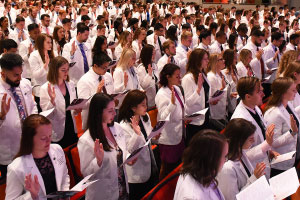 "Welcome to the women and men, who are committing themselves to the pursuit of the practice of osteopathic medicine, and to improving the well-being of the communities we serve," Hahn said.
"KCU has developed into one of the leading colleges of osteopathic medicine. We have graduated over 11,000 physicians, with nearly 9,000 alums currently practicing medicine throughout the U.S. and around the world. You are now part of the 9th largest medical school in the country, the leading educator of primary care physicians for the Midwest, and the number-one producer of physicians for the state of Missouri."
The students received their white coats on stage in front of 1,500 family members and friends. Members of KCU leadership, faculty and alumni presented the white coats, along with Steven Brushwood, DO, president Missouri State Medical Association and James DiRenna, Jr., DO, president of the Missouri State Medical Association and the first DO to serve as its president.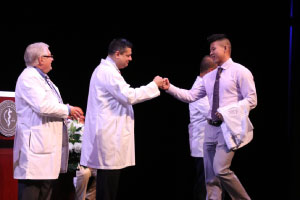 The ceremony included words of wisdom from keynote speaker Faisal Khan, MBBS, MPH, chief executive officer of Samuel U. Rodgers Health Center.
"There's more to this than clinical medicine. There's more to this than science and clinical signs and symptoms and biology and anatomy and biochemistry and physiology," Khan said. "The dignity my friends of this white coat should not mask your curiosity."
Student doctors were encouraged to thank all of those who helped them become accepted into medical school and to build friendships and support systems with their classmates during the rigorous years to come.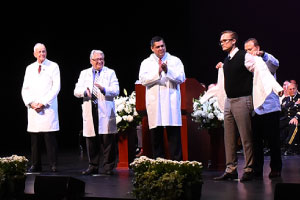 Following the presentation of white coats, Darrin D'Agostino, DO, MPH, MBA, executive dean, College of Osteopathic Medicine and vice president for health affairs, administered the osteopathic oath.
"It was amazing to be here with our fellow classmates receiving our white coats together," said Pauline Kaplan of Danbury, Connecticut. "This as well as having huge support from my family means a lot."