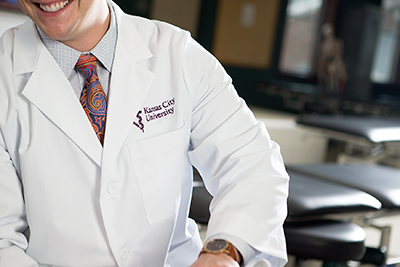 The American Osteopathic Foundation (AOF) offers a variety of educational scholarships to recognize academic excellence among osteopathic medical students across the country. Five KCU students received AOF awards in 2021.
Deborah Dele-Oni, OMS II, a student at the KCU Kansas City campus, and Anmol Multani, OMS II, a student at the KCU Joplin campus, each received Sterling Welch, DO, Scholars Grants. These grants provide monetary assistance to students who demonstrate outstanding academic achievement, participation in extracurricular activities and a strong commitment to the field of osteopathic medicine.
Samuel Heywood, OMS II, a student at KCU Joplin campus, was awarded the Thomas A. Quinn, DO, Osteopathic Scholarship. AOF awards this scholarship to one student each year who excels academically, participates in activities outside of those required by medical school and has shown exemplary leadership.
Kansas City campus student, Brandon Bishop, OMS II, earned AOF's William G. Anderson, DO, Minority Scholarship. This award recognizes minority medical students who have assumed leadership roles focused on addressing educational, societal and health needs of minorities or addressing inequities in medical education or health care. Bishop takes part in a group effort to examine the environmental impact of waste produced by neurosurgical procedures and has also conducted research on match rates between DO and MD students in specific medical specialties.
Michael W. Kortz, OMS IV, KCU-COM student government president, received coveted recognition as an AOF Golden Ticket Scholarship Finalist. The annual Golden Ticket Scholarship honors medical students who rank in the top 25 percent of their class, demonstrate leadership qualities among their peers, and actively engage in volunteer service beyond what's required as part of the curriculum.
Congratulations to each AOF scholarship recipient! Thank you for representing KCU so well.