(July 17, 2020 – Kansas City, Mo.) For the second year in a row, Kansas City University (KCU) College of Osteopathic Medicine announces 100 percent placement rate in residency programs for the Class of 2020.All 267 graduates seeking a residency following graduation on May 9, 2020, entered into residency training or are participating in research.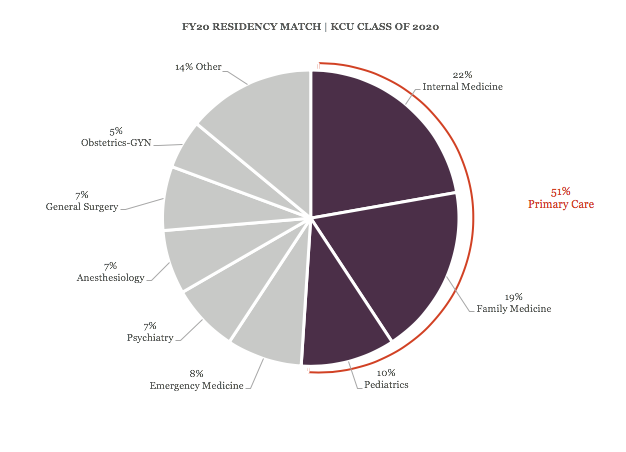 "This is particularly impressive during a year with a record number of DO applicants," said Darrin D'Agostino, DO, executive dean for KCU. "In addition, the National Resident Matching Program (NRMP) held the first merged match system that combines AOA (DO) and ACGME (MD) applicants creating greater competition than ever before."
Beginning in June and July, KCU's graduates will enter graduate medical education programs in hospitals and health centers representing more than 23 different specialties. Remaining true to the osteopathic heritage, 51 percent of KCU graduates chose a primary care specialty, which includes family medicine, internal medicine and pediatrics.
This concentration of new physicians pursuing a primary care specialty comes at a critical time in health care when the Association of American Medical Colleges projects a nationwide shortage of primary care physicians ranging between 21,100 and 55,200 – especially in rural areas.
"As KCU prepares to graduate the inaugural class from KCU-Joplin in 2021, KCU is set to make a tremendous impact on the physician shortage in underserved areas and throughout rural Missouri now and for years to come," D'Agostino said.
CONTACT:
Elizabeth Alex, Public Affairs Director, (816) 654-7032, ealex@kcumb.edu