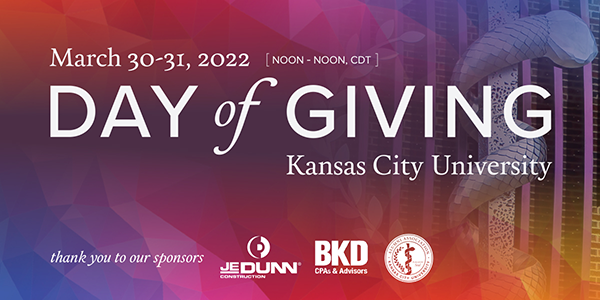 In the midst of a busy examination week on both the Kansas City and Joplin campuses, Kansas City University students, faculty, and staff paused for a moment on Wednesday, March 30, and Thursday, March 31 to focus on the university's third annual Day of Giving campaign. They took time to spin a prize wheel, enter a raffle drawing, write thank-you notes to donors and donate to receive a Day of Giving t-shirt.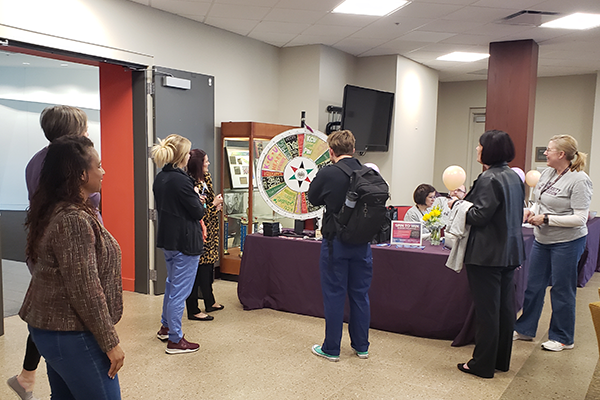 Online, across the United States, alumni and other friends of KCU read stories of alumni, student doctors, faculty, and staff alike who wrote in support of the new diversity, equity, and inclusion (DE&I) scholarship—the 2022 Day of Giving fund of support. Collectively, through more than 300 donations, the community raised in excess of $80,000. More than $59,000 was raised toward the new endowed DEI Scholarship alone.
"It was my pleasure to be the honorary chair for this year's Day of Giving," said Kenneth Durgans, EdD, associate provost for diversity and inclusion at KCU. "I'm humbled and pleased by your collective kindness. I am forever grateful; because of your generosity, we surpassed our Day of Giving goal. Your gifts will transform the dreams of our future students, and for that, I am thankful."
Donations were encouraged at all levels as part of Day of Giving success, but they were not required to get involved. Students, for example, wrote dozens of thank-you postcards that were then mailed to Day of Giving donors.
Several student doctors felt compelled to donate back to the scholarship, which will be used in future diversity recruitment efforts at KCU.
"As someone who lives this experience, when you increase diversity, you are accepting what comes along with that. If we're going to accept people, we have to set them up for success down the road," said Samantha Cooley, MSW, second-year COM student on the Kansas City campus said. "Socioeconomic status and race go hand in hand. There's just no way to separate the two."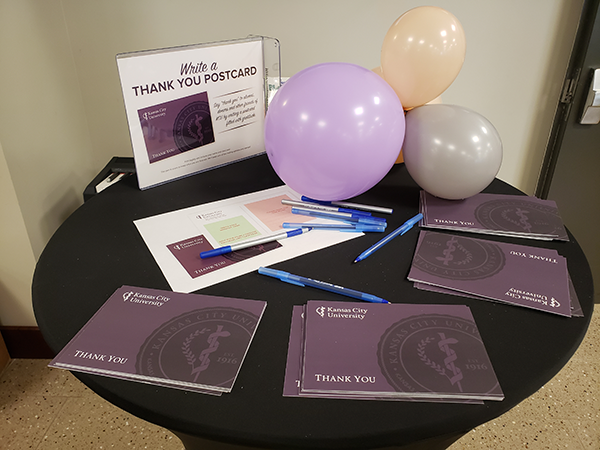 "Seeing current students get excited about the possibilities this DE&I scholarship will provide was the best part of it all," said Cynthia Torres, diversity and inclusion coordinator at KCU's Joplin campus. "I was taken aback by their generosity in making personal donations and contributions to help make this day a success."
Launched in August 2019, KCU Day of Giving provides an opportunity for alumni, students, faculty, staff, and other friends of the University to come together in a day of celebration. The first Day of Giving in August 2019 corresponded with Score 1 for Health Day, while the second Day of Giving in April 2021 took place in an all-virtual setting due to COVID-19 restrictions and protocols.
"When we first started planning for the 2022 Day of Giving, COVID-19 was still creating a big question mark around the safety of gathering together in person," said Adrianne DeWeese, assistant director of Annual Giving and Donor Relations. "When planning began to ramp up for in-person activities, we were still largely constrained due to the Delta and Omicron variants. It was so exciting to see the smiles on peoples' faces as they spun the prize wheel, donated for their T-shirts, and wrote thank-you cards – activities that almost seemed impossible a mere six to eight weeks before."
Although Day of Giving 2022 has concluded, the work is ongoing. The Office of Philanthropy and Alumni Relations will continue to fundraise for the scholarship and partner with other University departments, including Admissions, Diversity and Inclusion, Finance and Financial Aid to ensure proper stewardship of donors' gifts to the scholarship. The Office of Philanthropy and Alumni Relations is also in the beginning stages of planning for the 2023 Day of Giving.
"We have a real opportunity at KCU to lift up an already-strong culture of philanthropy through positive initiatives like Day of Giving," said Jennifer Ingraham, vice president of Philanthropy and Alumni Relations. "On Day of Giving, KCU comes together as one community, and just like everything we do, we do it with our students in mind. We want all KCU students to feel supported in their educational experience here so they can continue to live out our mission of improving the well-being of the communities we serve."