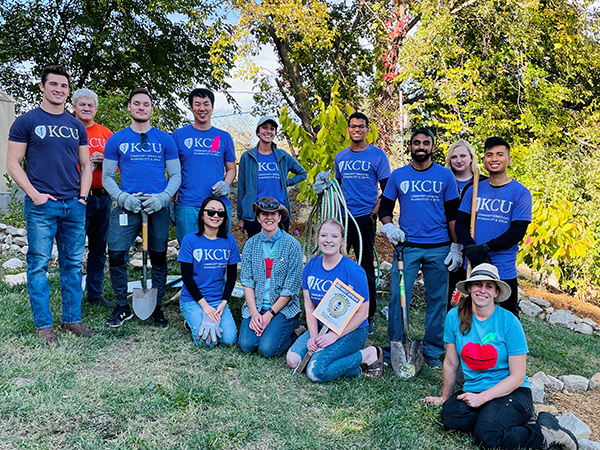 Kansas City University (KCU) held its first WE CARE Day more than 20 years ago. The annual day of community service provides an opportunity for KCU faculty and students to immerse themselves in addressing critical needs by partnering with local nonprofits, while in turn encouraging those organizations to connect and build relationships with one another. The long-standing tradition typically takes place during orientation for first-year students, however the pandemic put WE CARE Day on hold for the Class of 2024. To allow Kansas City campus students to participate in the WE CARE Day community service that was missed last year, KCU offered two dates on October 8 and October 22.
Students chose from several service projects, including preparing and serving meals to the homeless and vulnerable at Kansas City Community Kitchen; assisting with landscaping and planting flowers at Pendleton Heights Community Orchard; distributing food or spending time with seniors playing Bingo at Don Bosco Senior Center; creating memorial hearts for hospice patients and their families at Kansas City Hospice House; or sorting and packaging food at a local community food bank. In all, 138 second-year students served over the course of both days.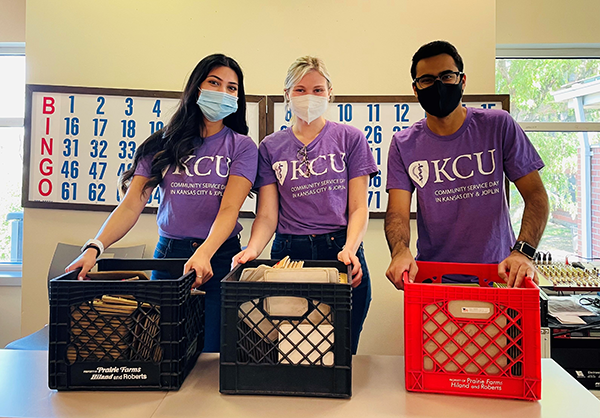 "WE CARE Day is a time-honored tradition at KCU that celebrates our partnerships in the community while also providing rich experiences for students to give back through service in a most meaningful way," said Sara Selkirk, KCU assistant vice provost of Student Services. "For KCU students, the lessons learned by serving others have a lasting impact and better equip them to become compassionate, humanistic providers. Additionally, WE CARE Day allows our students to help underserved members of our community — not just for one day, but through enduring relationships that have grown into successful outreach projects year after year. WE CARE Day embodies KCU's mission of "improving the well-being of the communities we serve" and represents the very best of our commitment to serve those in need."
KCU-Joplin will hold WE CARE Day for its Class of 2024 after the first of the year.