Biomedical Sciences' Curriculum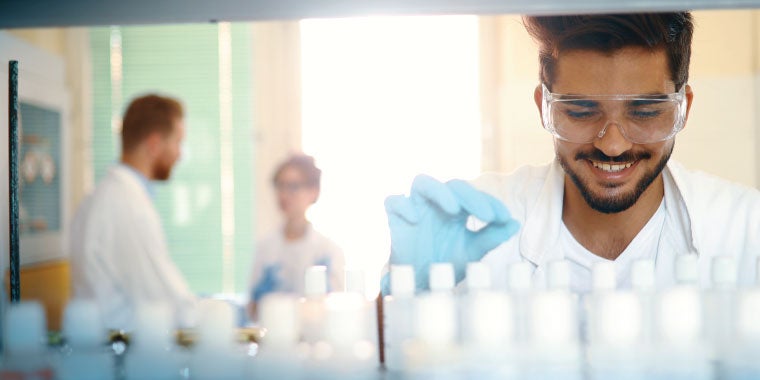 ---
KCU's Masters of Biomedical Sciences' curriculum puts you ahead of the curve in a career of biomedical sciences and research. It also gives you an edge over students who enter medical school directly after an undergraduate program if you choose to continue your educational career.
One-Year Program Curriculum
Our semester-based curriculum follows a typical graduate program scenario. For the one-year track, there are eight required courses and two elective courses selected from four available elective courses.
Required Courses for One-Year Track
All courses considered electives for two-year track students.
Anatomy 1 & 2

Physiology 1 & 2

Epidemiology

Biochemistry

Immunology

Molecular Biology

Research Methodology
Elective Options
Histology

Human Genetics

Human Embryology

Microbiology

Computer Programming for Bioinformatics

Algorithms and Development for Bioinformatics
Two-Year Research Program Curriculum
The two-year track is a research track in which you take seven elective courses drawn from the full list of courses offered to the one-year track students in addition to research- and thesis-related courses for your research activity. You'll also write a thesis and must pass a public defense of your research project. You will have the opportunity to study Bioinformatics, which has an important role in the future of the bioscience and medical industries.
Primary Research Track Courses
---
Research Seminar

Research
Thesis Dissertation
Scientific Communication
Scientific Methodologies
Elective Courses
---
Students are required to complete seven of the following courses:
Anatomy 1 & 2

Histology
Human Physiology 1 & 2
Human Genetics
Introduction to Epidemiology
Biochemistry
Molecular & Cell Biology
Immunology
Human Embryology & Dev Biology
Microbiology
Pharmacology
Bioinformatics
Intro to Computer Programming
Bioinformatics Algorithms