Student Clubs & Organization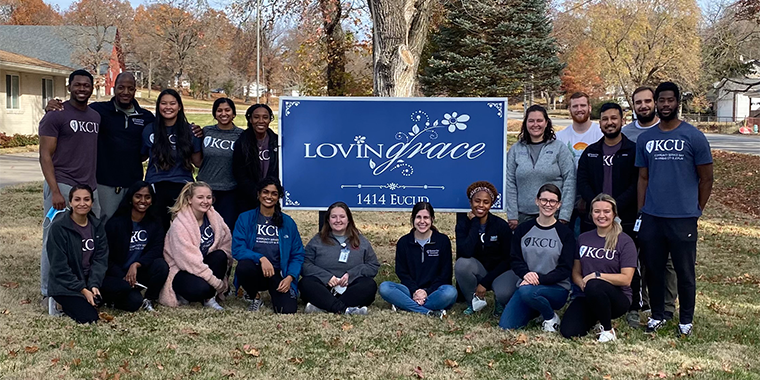 Find your niche. Build relationships while improving your profession.
Hone your leadership skills and make your mark. Join a KCU club.
Members have the opportunity to network, attend national conventions,
promote the medical profession and participate in special clinical experiences.
Student clubs vary by campus. See a complete list for each campus below.
---
Kansas City Campus
Advocates for Diversity in Medicine (ADM)

American College of Osteopathic Family Physicians (ACOFP)

American College of Osteopathic Obstetricians and Gynecologists (ACOOG)

American Medical Association-Medical Student Section (AMA-MSS)

Asian Pacific American Medical Student Association (APAMSA)

Association of Black Psychologists (ABPsi)

Christian Medical and Dental Association (CMDA)

Community Garden Club

Dermatology Club

DOCARE International

Emergency Medicine Club (EM)

Fit Doctors Association (FDA)

Gold Humanism Honor Society (GHHS)

Internal Medicine Club (IM)

KCU Peer Support (KCUPS)

KCU Student-Run Clinic

LatinX Student Association (LSA)

Latter-day Saint Student Association (LDSSA)

Medical Corps

Medical Students for Choice (MSFC)

Missouri Association of Osteopathic Physicians and Surgeons (MAOPS-KCU)

Muslim Students Association

Osteopera

The Other Half

Pediatrics Club

Physical Medicine & Rehabilitation (PM&R) Club

Phi Delta Epsilon

Primary Care Progress

Psi Sigma Alpha

Sigma Sigma Phi

Simulation Club

Spanish Club

Sports Medicine / Orthopedics Club

Students Advocating for Education Equality (SAFEE, an LGBTQ organization)

Student American Academy of Osteopathy (SAAO)

Student Interest Group in Neurology (SIGN)

Student National Medical Association (SNMA)

Student Osteopathic Anesthesia Association (SOAA)

Student Osteopathic Medical Association (SOMA)

Student Osteopathic Radiology Association (SORA)

Student Osteopathic Surgery Association (SOSA)

Wilderness Medicine Club (WMC)

Women in Medicine (WIM)
Joplin Campus
Advocates for Diversity in Medicine (ADM)

Advocates for Disabilities in Healthcare

LDSSA (Latter-day Saint Student Association)

Medical Spanish Special Interest

Muslim Association Special Interest

Revival Christian Special Interest

American College of Osteopathic Family Physicians (ACOFP)

Family Medicine Special Interest

OBGYN Special Interest

Pediatrics Special Interest

Psychiatry Special Interest

Sports Medicine Special Interest

Anesthesiology Club

American Medical Women's Association (AMWA)

Asian Pacific American Medical Student Association (APAMSA)

Board Game Club

Emergency Medicine Club (EM)

Ultrasound (SIG)

Fit Doctors Association (FDA)

Gold Humanism Honor Society (GHHS)

Internal Medicine Club (IM)




Allergy & Immunology

Cardiology

Critical Care

Dermatology

Endocrinology

Gastroenterology

Internal Medicine

Journal Club

Nephrology

Oncology

Pulmonology

ENT

Medical Corps

Missouri Association of Osteopathic Physicians and Surgeons (MAOPS-KCU)

Mental Health in Medicine

Muslim Student Association (MSA)

Multicultural Student Organization (MSO)

Neurology Club

Notochords Club

Orthopedics Club

Physical Medicine and Rehabilitation Club (PM&R)

Psi Sigma Alpha

Radiology Club

Research Club

Student American Academy of Osteopathy (SAAO)

Student National Medical Association (SNMA)

Student Osteopathic Medical Association (SOMA)

Student Osteopathic Surgery Association/Surgery Club (SOSA)

Students Advocating for Education Equality (SAFEE, an LGBTQ organization)

Sigma Sigma Phi

Simulation Club