Reviewed | Spring 2021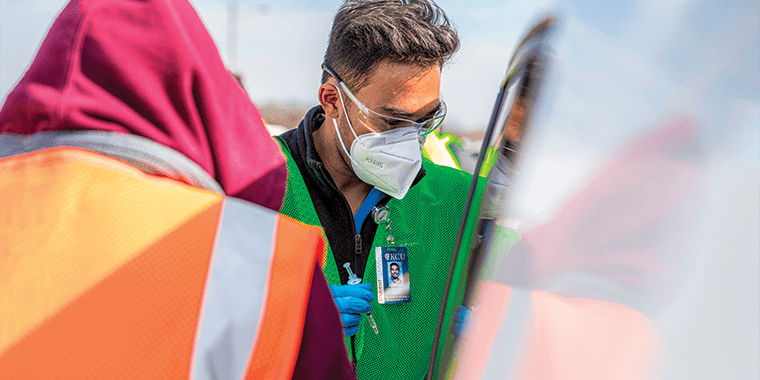 ---
GIVING THEIR BEST SHOT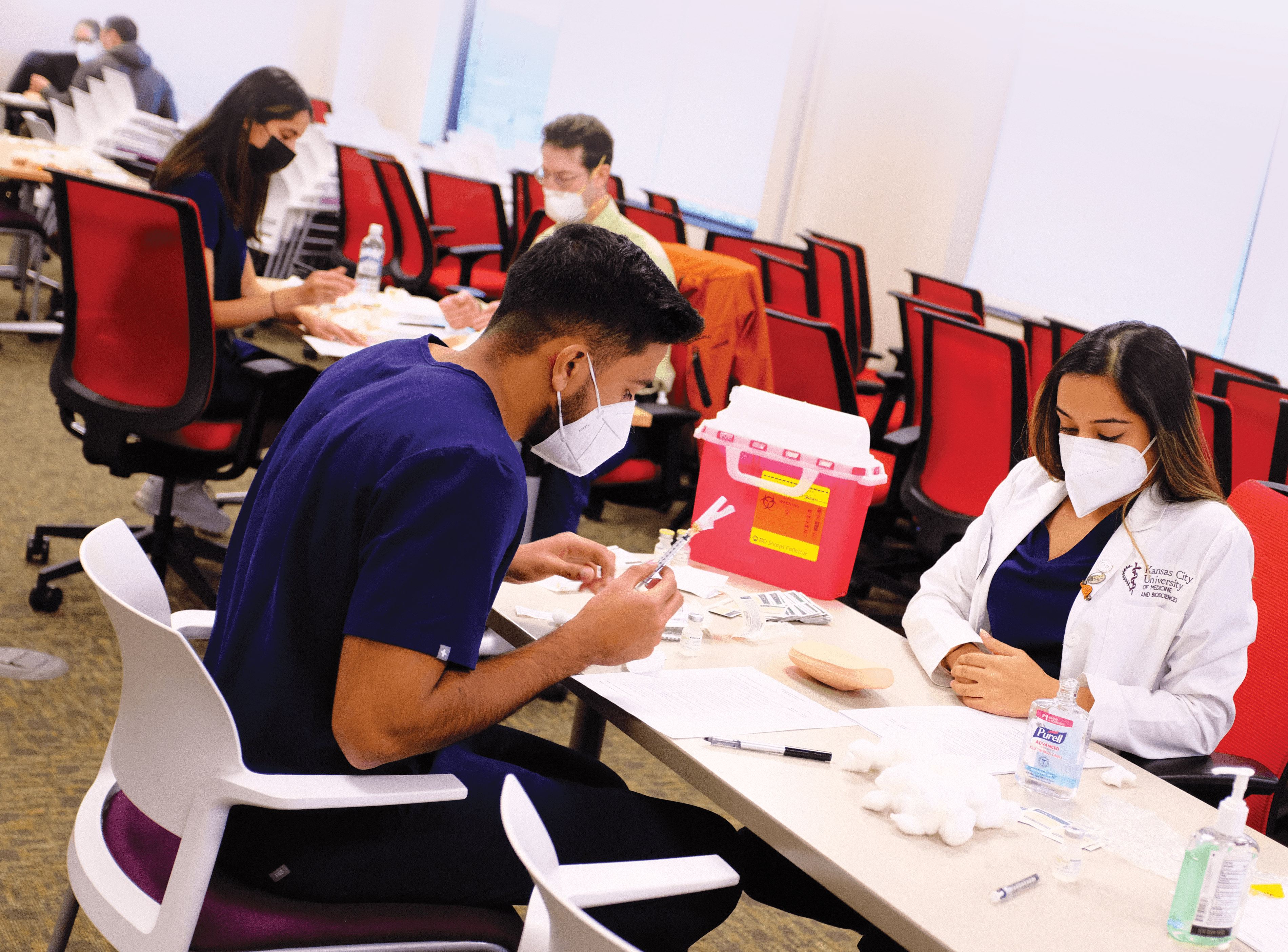 Just as it did at the onset of the pandemic, KCU once again quickly flexed its programming to train and certify first- and second-year osteopathic medical students to vaccinate for COVID-19. This would serve to ease the strain on overworked health care providers as they scrambled to vaccinate the community, particularly those who were most vulnerable. To date, KCU has participated in the delivery of more than 40,000 vaccinations.
"Many students felt intense helplessness and sadness, as the pandemic began and everything closed," said Neha Singh, a second-year medical student at KCU. "We are young, healthy, and want to reduce the burden in hospitals."
Today, they are doing just that. KCU student and faculty volunteers work in a special clinic held on the KCU-Kansas City campus, in collaboration with the Kansas City, Missouri Health Department. Additionally, KCU students volunteer at Federally Qualified Health Clinics (FQHC) and HCA-affiliated clinics, and mass drive-through clinics organized by the National Guard.
In mass drive-through clinics organized by the National Guard, students from the KCU-Joplin campus are administering the vaccine to people who sometimes travel long distances to become vaccinated.
Students from the KCU-Joplin campus are working with the National Guard in two districts that are providing vaccines for rural communities because patients can't always get to the larger cities. KCU is proud of our students from the Joplin campus who are willing to travel to places that are farther away. It is an effort that truly comes from the hearts of students who want to serve and help, wherever they are needed.
KCU students are trained, certified and vaccinated prior to volunteering. Faculty and staff work with local providers to schedule the volunteer workforce, easing another burden health departments and hospitals face, not to mention what it does for students who are eager to get out of their books and help real people.
"It's a tremendous pre-clinical experience," said Bruce Williams, DO, associate dean for Clinical Education. "First- and second-year student experience is centered on classroom work, labs and simulators. The opportunity to work with actual patients and provide actual care is something they really embrace."
Singh says it is an opportunity to make a difference.
"Our volunteer sign-ups fill up within two minutes of an email being sent out, even on exam weeks," she emphasized. "Everyone wants a chance to volunteer and be a part of the solution. After vaccinating thousands of people at KCU, we've definitely saved multiple lives now. Very few students get to say that this early in their medical journey."
Despite the rigorous schedule for medical school that must be kept, KCU students can have confidence they will have the time flexibility to volunteer due to months of planning. It can be difficult to change curriculum and to liberate students. KCU administration and faculty demonstrated foresight and created a way that allows students to have time, so that they can take advantage of an important opportunity during the pandemic and help become part of the solution for their communities.
This is the second time in KCU's 105-year history that its first- and second-year students have been asked to join the ranks of health care professionals in the midst of a pandemic. Kansas City University students were asked to treat patients in Kansas City during the Spanish flu pandemic of 1918. Then and now, student doctors answered the call to serve.
"They have been soldiers against COVID-19 and will help stop this pandemic with their important work," said KCU President and CEO Marc B. Hahn, DO. "In doing so, they are being asked to step in to practice earlier than most medical students. They will hold a special place in KCU history."
While Singh says she welcomes the opportunity to be part of this moment in medical history, she is also learning about the power of public health, and believes today's clinics will benefit patients in the future.
"COVID-19 highlights the idea that we as medical students must learn to treat our patients equally and get rid of our biases. People live in multi-generational homes, have essential jobs, lack of health insurance, and many lost loved ones during this pandemic. COVID-19 reminded me that no matter what my grades are, I can become the physician I hope to by learning how to adapt to my patients' needs and circumstances."
As more doses become available, KCU students are prepared to volunteer until the entire community is vaccinated. They will be there as long as the community needs them, which speaks volumes about the kind of physicians they will eventually become.
As a result of this innovate approach to integrating health sciences education with public health, KCU has received a grant of $150,000 from the Marion and Henry Bloch Family Foundation. This funding will support the coordination of future efforts and help grow the program to reach more people. The effort will not end with this pandemic. KCU plans to focus future efforts on community-based health and wellness programs in partnership with FQHCs. The program may include vaccinations for flu, shingles and other diseases easily preventable by a vaccine.
LISTENING & LEARNING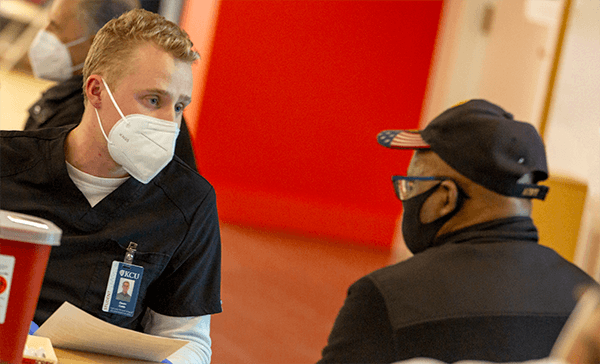 Faculty members in the Kansas City University (KCU) Doctorate of Clinical Psychology (PsyD) program have conducted four "Listening Tours" to help identify the reasons some people may be hesitant to receive the vaccine, especially in underserved communities and communities of color.
"Unfortunately, science and medicine have a less than stellar history with communities of color," said Sarah Getch, PhD, psychology program director. "Due to mistreatment and medical experimentation, many people do not trust the medical community. Furthermore, politics and a wave of misinformation have created additional reasons for many groups to distrust the vaccine."
According to the demographic information from the Centers for Disease Control and Prevention (CDC), among those who have recently received the vaccine whose race/ethnicity is known, nearly two thirds were White, 9 percent were Hispanic, 8 percent were Black and 5 percent were Asian. Native American Indian, Native Alaskans and Native Hawaiian or other Pacific Islanders made up the rest.
Getch and her colleague, Dr. Esperanza Anaya, have partnered with KCU's College of Osteopathic Medicine and Samuel U. Rodgers Health Center, a Federally Qualified Health Center (FQHC), to learn about vaccine concerns and administer vaccines to underrepresented members of the Kansas City area community. They worked with clinical staff initially, as they are trusted community members who can have a positive impact on the broad, diverse patient population the Center serves — and beyond.
Facilitators from KCU's PsyD program are holding in-person sessions in which they ask five open-ended questions focusing on vaccine hesitations, what the organization (Sam Rodgers) can do about it, what community members know about scientific research on how the vaccines were created, where patients feel safe receiving a vaccine, and what kind of motivation they have for getting it. No identifying information is collected. Themes related to participant responses include wanting to understand more about how the vaccine works, as well as a desire to speak with individuals who have already been vaccinated. There are also concerns related to conspiracies and myths circulating through social media.
"We found that a lot of people have a healthy sense of skepticism," said Getch. "Most people indicate they are open to the idea of getting the vaccine; many want to watch and see what happens first while others want to be assured there are no dangerous or longstanding side effects."
Getch noted that PsyD students have a vested interest in supporting the community and especially communities of color. "All of us at KCU are excited to see our PsyD students build relationships throughout the Kansas City area by listening to the concerns some have about the vaccine, meeting folks where they are, and leaning on influential community members to share accurate information."
Answers and results of the surveys are transcribed, analyzed and reported to participants and Sam Rodgers' administration so that concerns can be addressed through targeted educational sessions and materials as well as open question-and-answer sessions with an expert.
As questions are addressed, community members may decide to receive the vaccine at one of the many clinics throughout the region where KCU medical students are volunteering as vaccinators.
KCU knows that people who live in underserved areas have been disproportionally impacted by COVID-19, particularly people of color. It is important to listen to community concerns and provide accurate information. Ultimately, it is hoped people will choose to become vaccinated, and KCU stands ready to help.
In order to reach a broader segment of the community, KCU has received a $150,000 grant from the Marion and Henry Bloch Family Foundation that will help provide support for scheduling and manage the training of PsyD students to conduct listening tours and perform further research.
For more information, email Dr. Sarah Getch.
CELEBRATING A UNIQUE CALLING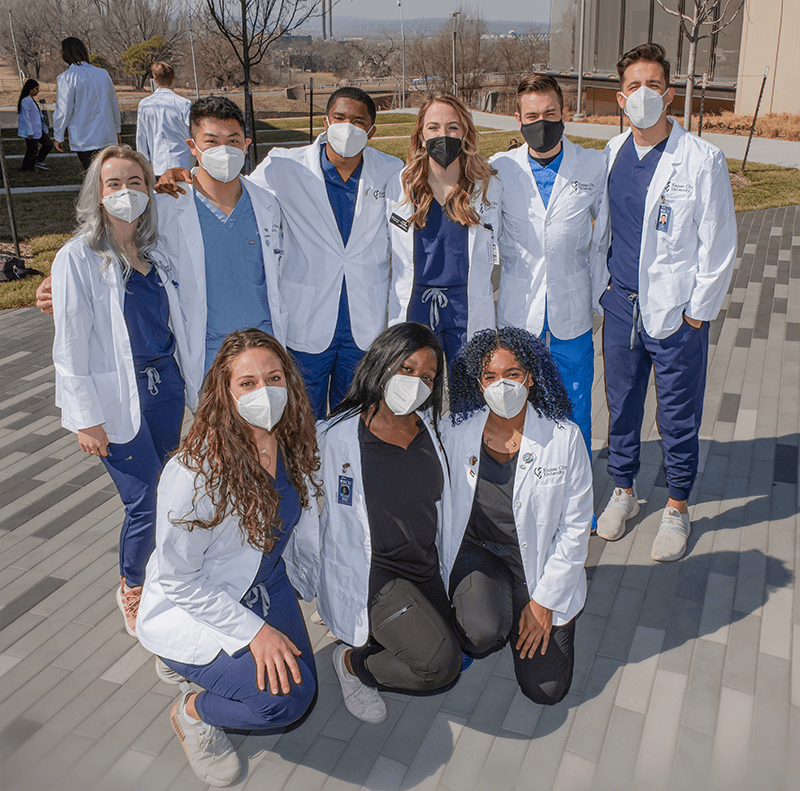 On March 2 and March 4, 2021, Kansas City University's College of Osteopathic Medicine (COM) Class of 2024 participated in a celebration to recognize their early and unprecedented hands-on clinical practice in COVID-19 vaccination clinics.
For this class, starting med school amidst lockdowns, social distancing, remote learning and heightened civil unrest has brought even greater challenges than the first year normally brings. But it has also brought an opportunity for these students to make difference — an opportunity that is truly unique to this class alone. They have been called to duty much earlier than their predecessors to deliver clinical care against the backdrop of the worst public health crisis in modern history. (See story in this issue on KCU vaccination clinics.)
During the celebrations — held on both the Kansas City and Joplin campuses — students wore their white coats collectively for the first time, each one presenting biographical highlights and sharing personal reflections on the symbolism of the white coat and what it means to them. Class of 2024 COM students will participate in the University's formal whitecoat ceremony planned for their next academic year.
MATCH DAY MANIA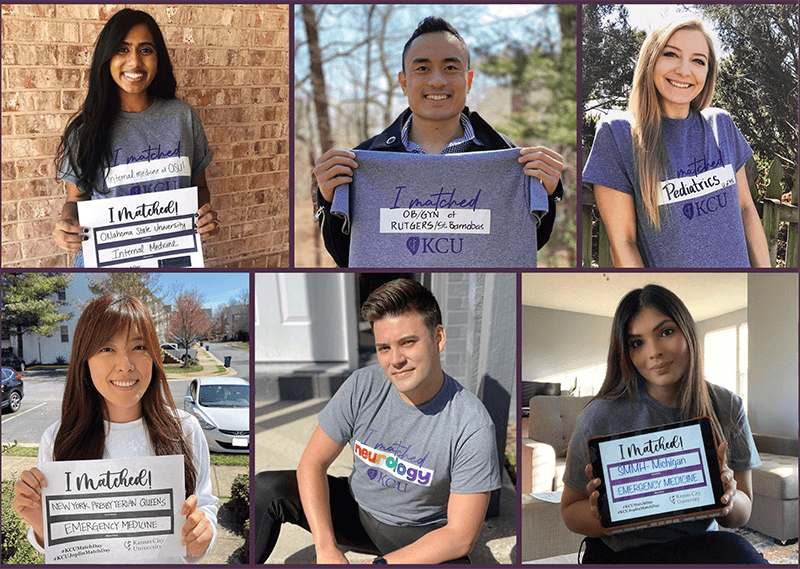 From showcasing a choreographed dance routine to discovering their residency placements with family members cheering by their sides, KCU's Class of 2021 shared their excitement, photos and videos in a virtual celebration of this year's Match Day on March 19.
KCU provided students with t-shirts and posters on which to pen their Match specialty and location once notified. Students snapped photos, visited a virtual photobooth and shared posts on social media with hashtags #KCUMatchDay and #KCUJoplinMatchDay. Posts were placed into a single stream on KCU's website, allowing members of the KCU community, family and friends to celebrate the Class of 2021's Match Day success.
To view content shared by KCU fourth-year students, as well as their Match Day results, visit the Match Day 2021 Celebration page.
"THIS WHITE COAT EMBODIES MY ANCESTORS..."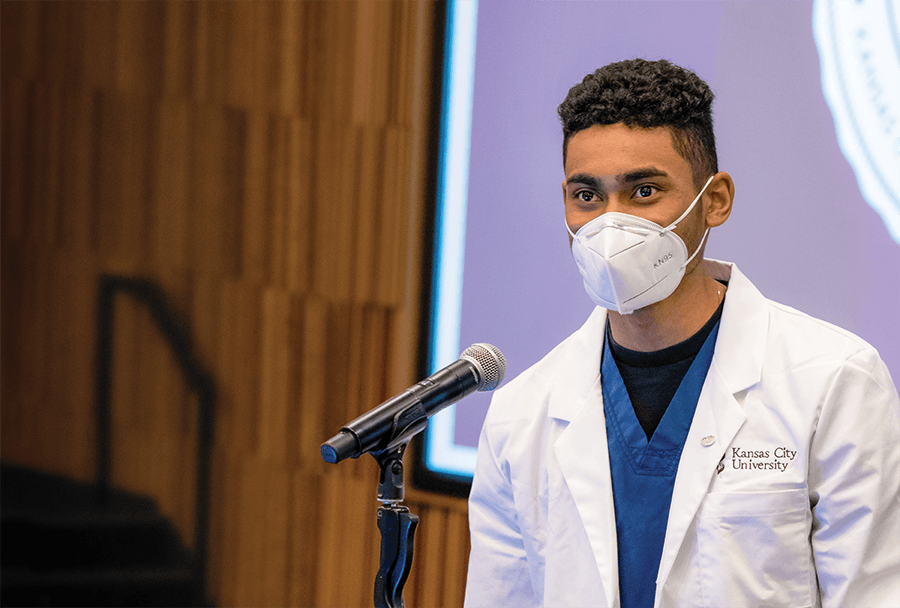 Johnson didn't always plan to be a doctor. He found his way to medical school through a series of self-discoveries and encounters that opened his eyes to possible career paths. After realizing he was unlikely to reach his childhood dream of being a professional soccer player, he redirected his energy toward pursuing a science-related career, initially aspiring to become a physical therapist and later turning his energy toward becoming a physician assistant (PA). Then, during his undergraduate studies at Concordia University in his hometown of Portland, Oregon, he landed an experience that inspired him to push his goals higher once again.
"During an internship at Oregon Health Science University, which is our big public health system in Portland, I got to observe cardiothoracic surgery," Johnson recalls. "I thought, 'This is the coolest thing ever.' Being a PA is an amazing career, they're just limited in the things that they can do on the operating table. And so I decided to pursue med school."
Johnson entered the KCU-COB in 2019, where his outstanding academic performance demonstrated his gift for the health sciences. In Spring of 2020, he was awarded KCU's diversity scholarship based on his outstanding academic performance. He views becoming a physician as an opportunity to meaningfully contribute to the African-American community by helping to fulfill the need for better representation in health care.
"One of my biggest goals going into medicine is increasing the diversity in health care," Johnson says. "I know it's common in the African-American community that there's not significant trust in health care, and my hope is that becoming a competent and sincere practicing physician that my patients can trust, I can regain the trust of 50 people in my lifetime. And then they go on to teach their kids and future generations that doctors know what they're doing. That's a good place to start."
When Johnson's medical school experience was disrupted by the global COVID-19 pandemic, he was concerned about the abrupt transition to remote learning. He'd never considered his learning style to be self-directed. Yet, he tackled the challenge, achieving the rigorous grade standards and MCAT scores that earned him KCU's diversity scholarship.
The KCU diversity scholarship is a partial tuition scholarship awarded to underrepresented minority students in medical education who meet minimum academic admission test and GPA requirements. The awards are renewable for three additional years if minimum academic requirements are maintained.
"You have to overcome," Johnson acknowledges. "You have to build the new norm for yourself or else sink or swim, right? I'm happy with how my first year has gone, to experience (medical school) despite being in a pandemic. KCU gave us enough resources to do well."
COVID also altered Johnson's overall view of the U.S. health care system. He watched as the pandemic exposed vast disparities across various populations on a large scale. "There's just not enough access to health care, right? I think that became really evident in the pandemic. People want to get help from doctors, but they can't afford it." Johnson says he hopes he can be part of a solution to facilitate more access to quality health care for all.
Learning he'd been awarded the diversity scholarship was a high point of the pandemic upheaval. Because he had returned to Portland where he studied from his parents' home, he was able to share the joyful moment with them. "I started crying and crying, and then I had to print out the email and surprise them. They were emotional, too."
Now back in Kansas City, Johnson continues to work hard toward his goal of becoming a surgeon. He embraces learning about others, seeking new experiences, such as through KCU-sponsored volunteer activities. He lights up when describing learning about new perspectives when talking to seed-saving enthusiasts while volunteering at a community seed swap, or the rush he received when cheering on cyclists as they raised money for mental health needs during a Bike for the Brain event.
Johnson says he is grateful for the gift of the diversity scholarship, acknowledging its boon to his pursuit of becoming a physician. Because of it, he's more at ease, with fewer concerns about student debt and greater ability to focus on building a future of service as a health care provider.
NAVIGATING & TRANSLATING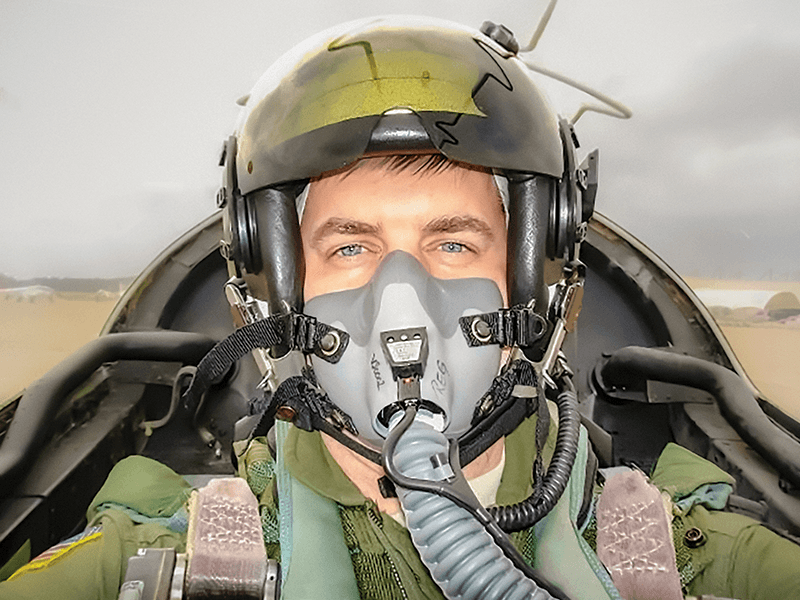 "All of the projects I was working on pre-pandemic shifted to the backburner almost overnight," Col. Hoefer says. "In the military, leaders are focused on winning the battle. The Army has a pact with its soldiers — if you get hurt, we promise to help save your life. In this instance, the fight was against the coronavirus."
At the outset of COVID incident command meetings, Col. Hoefer recalls the responsibility that he and his fellow physicians had in translating the ensuing battle's critical aspects from a medical perspective.
"For example, we explained to non-medical leaders, members of our team and employees the differences between a virus and bacteria, what development of a vaccine meant and how they (vaccines) work, and defined therapeutics," he says. It was necessary to provide detailed medical information so that everyone was on the same playing field and understood the nature of what we were up against."
The urgent uncertainties of a pandemic
An aerospace and occupational medicine physician currently assigned as the command surgeon for U.S. Army Materiel Command (AMC), headquartered at Redstone Arsenal near Huntsville, Alabama, Col. Hoefer's primary focus against the invisible enemy was to protect the Army's workforce and families, while combatting and preventing the spread of the coronavirus and accomplishing the Army's worldwide mission.
"As command surgeon, my job is much like a chief medical officer," he says.
One of four Army Commands, AMC oversees the Army's massive global supply chain of materiel, which in military context refers to resources necessary to achieve a given mission. For Col. Hoefer, a career Army officer who assumed the post at Redstone Arsenal in July 2019, the grim health crisis assaulting every corner of the globe required him to ensure development and delivery of materiel readiness solutions: producing materiel, moving supplies and taking care of people.
To put the scope of Col. Hoefer's job in perspective, AMC is the Army's lead materiel integrator, managing the global supply chain and synchronizing medical logistics and sustainment activities across the military branch. AMC employs more than 180,000 soldiers and civilian workers across the world, and Col. Hoefer has oversight for the health and medical aspects of what they do.
"AMC is tasked with sustaining the Army in its support of the country's shared vision and efforts to stop the spread of COVID-19," explains Col. Hoefer. "From producing, repairing and repurposing equipment — from sewing machines to manufacturing equipment — to augmenting the supply of personal protective equipment (PPE) and other potentially life-saving medical equipment."
A recent article Col. Hoefer co-wrote with Col. William Johnson for the U.S. Army describes how AMC's workforce responded to "the new demands while supporting Army top priorities." Artisans at Joint Munitions Command, headquartered on Rock Island Arsenal, between Davenport, Iowa, and Rock Island, Illinois, produced more than 70,000 cloth face coverings and 2,300 gallons of hand sanitizer, "vital for Army personnel to continue their mission-essential work."
Prior to serving as the command surgeon for AMC, Col. Hoefer was the command surgeon for the 1st Theater Sustainment Command at Fort Knox, Kentucky, providing the Army operational-level sustainment support.
Journey to a global medical stage
Originally from Minnesota, Col. Hoefer holds a Master of Military Arts and Sciences from the U.S. Army Command and General Staff College; a Master of Public Health from the University of Texas Medical Branch; and a bachelor's degree in biology and pre-medicine with a minor in history from Saint John's University.
During undergraduate studies, Col. Hoefer was in the Army Reserve Officers' Training Corps (ROTC), a highly regarded leadership course. Although he always knew medical school was his path, Col. Hoefer decided to take a respite from academics following graduation and entered the Army, where he was based for six years as an officer in the Medical Service Corps in Fort Bragg, North Carolina — one of the largest military installations in the world.
"Fort Bragg is the home of the Airborne and Special Operation Force," Col. Hoefer says. "During my time stationed there, I was around deployable medical units, or field hospitals, went overseas several times and knew I wanted to pursue the operational side of medicine."
Taking a scholarship for medical school, Col. Hoefer explored different options. Ultimately, osteopathic medicine's holistic, empathic approach to medicine appealed to him.
"Before applying to medical school, I worked as a medical logistics officer where I met the assistant dean of the Army's Joint Special Operations Medical Training Center, Lt. Col. Francesco Olivito, DO, a 1983 KCU graduate," Col. Hoefer says. "I really appreciated his approach to operational medicine—the ability to provide excellent, compassionate care in extreme environments. He encouraged me to consider KCU."
During his time at KCU, Col. Hoefer was impacted by the diversity of his class and the lifelong friendships he made.
"It was a large class and the students' life experiences varied," he says. "There were some fresh from college, some who took a pause from academics, like I did, and then entered medical school. We had a 52-year-old grandmother, some people already had careers, some had children. A very interesting mix of aspiring physicians that had lived all parts of life — not unlike the military."
Following a clerkship in Akron, Ohio, at a small community osteopathic hospital, Col. Hoefer discovered that his initial pursuit of becoming a surgeon was replaced by a passion for environmental and occupational medicine. In his fourth year of residency with the Army, Col. Hoefer had a month-long aerospace experience at NASA and clinical clerkships in aviation/aerospace medicine with some of the Army's best units.
"Aerospace medicine was exciting and went back to Dr. Olivito's philosophy of caring for people in extreme environments," says Col. Hoefer, a pilot and paratrooper—and an expert in occupational medicine. "It was fascinating."
Transitioning to the future
As the COVID vaccine slowly transforms a pandemic-weary nation — and world — to some level of new normal, Col. Hoefer anticipates his job will pivot to what he and his team typically did before COVID redefined priorities: concentrating on medical logistics, fulfilling the complex workings of the Army, and guaranteeing its sustainability for the next fight, wherever that battlefield might be.
"We'll prepare for the next fight, whether it's a war, a medical enemy or competing on a global scale," he says. "We react to what's going on in the Army, what's going on in the Department of Defense, what's going on at AMC."
SPRING REAWAKENING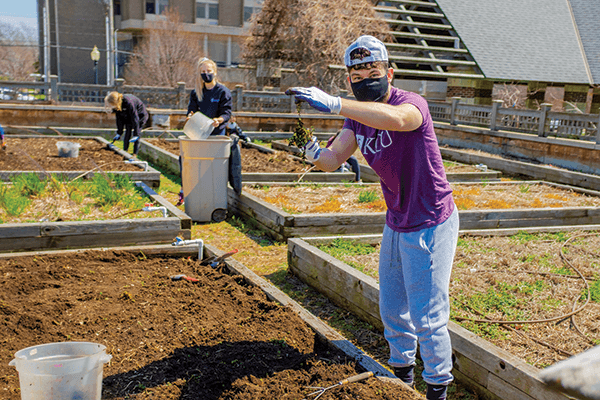 Study spaces on both campuses, including breakout rooms, learning labs, study rooms and both the D'Angelo and Dawson Heritage libraries are now open to students during regular working hours. KCU's on-campus study areas provide dedicated spaces for private or small-group work, reliable technology and access to support staff — important factors for student success.
Students also can now participate in approved group and volunteer activities provided all current safety protocols continue to be followed. This allows KCU students, faculty and staff to once again make a larger impact on the health and well-being of our communities through service and outreach. The KCU Community Garden is one of the first locations to benefit from restored volunteer activity; students have already begun weeding and repairing garden beds and planting early produce crops. Each year, the KCU Community Garden donates over 600 pounds of produce to organizations and neighbors in the Northeast Kansas City communities.
Additionally, food services on both KCU campuses are expanding under this new stage. Snacks, prepared meals and coffee shop selections are now available for purchase.
In Kansas City, both the student and employee fitness centers have reopened in a modified capacity and with new health and safety procedures in place, including the installation of rapid air filtration units. The number of both virtual and in-person fitness classes have also increased, allowing students, faculty and staff to address their physical well-being in the manner best suited to their comfort level and needs. In Joplin, the YMCA facilities available to the KCU community have reopened.
Other Stage Four: Restore Access changes include: the loosening of restrictions on essential inter-campus travel; edits to the campus visitor protocol; capacity modifications for in-person meetings and additional changes listed at the Campus Reawakening pages.
KCU will continue to actively monitor COVID-19 data and follow public health guidelines, with plans to eventually ease even more restrictions as part of Phase Five: Reimagine. For now, the changes included in Stage Four: Restore Access are an important step in making the return to in-person school and work a healthy, positive experience.
GIVING WITH A PURPOSE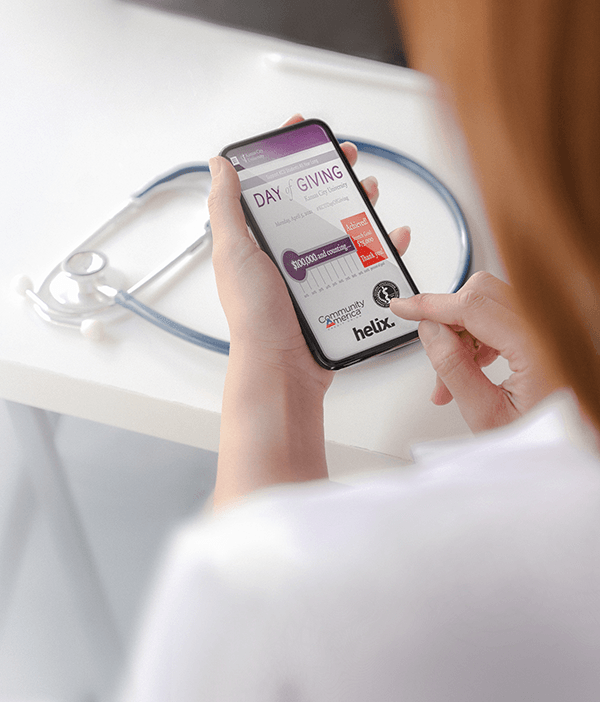 In support of Kansas City University's Day of Giving on Monday, April 5, alumni, faculty, staff and friends gave generously, raising more than $100,000. Day of Giving is an annual, one-day campaign in which the KCU community comes together to cultivate and celebrate a philanthropic spirit. This year, funds will impact KCU's COVID-19 Response Fund as well as additional KCU areas of need.
This dollar amount, which surpassed the University's stretch goal of $75,000, reflects the total donated as of April 14; additional gifts are still being counted.
Supporters shared memories and messages via social media using the hashtag #KCUDayofGiving. Thanks to all our donors who gave! And, thanks to our sponsors Community America Credit Union, Helix Architects and KCU Alumni Association. The University's Philanthropy and Alumni Relations department encourages involvement in the Day of Giving spirit all year round. Learn more about this successful fundraising event. Find out other ways you can make a gift to KCU.