Breton Silvis
Director of Creative Services

Breton Silvis, MSE, is KCU's creative director and has been a member of the University Relations team since 2015. Previously, was head of creative for the University of California Institute on Global Conflict and Cooperation, served on the launch team for the School of Design at the NewSchool of Architecture & Design in partnership with Domus Academy - Milan, and has held positions at the Smithsonian Institution, Jeffrey Alan Marks, Inc. and Park University among others.
Breton earned a BA in English from Allegheny College and an MSE in Higher Education Administration from The University of Kansas. He holds certifications in graphic design, design leadership and innovation, advertising & society and diversity communications.
Breton can be reached at bsilvis@kansascity.edu.
Recent Blog Posts By Breton Silvis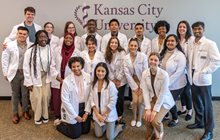 Giving medical education a JUMP-Start
For many individuals, pursuing a career in medicine is a life-long dream that begins in childhood. To fulfill it requires the building blocks of tenacity, dedication, time and knowledge – a combination that is most often regarded as challenging but achievable. Yet, despite having these blocks in abundance, many would-be doctors are still not able to realize their dreams because they don't have access to a component largely overlooked – a foundation of opportunity.