Marc B. Hahn, DO, FAOCA, President and CEO

Dr. Hahn became the 14th president and chief executive officer of the Kansas City University of Medicine and Biosciences (KCU) in July 2013, after serving as KCU's executive vice president for academic and medical affairs, provost and dean of the College of Osteopathic Medicine since October 2012. As president, he leads the largest medical school in the Midwest, which is a key educator of physicians and scientists for both Missouri and Kansas, and the tenth largest medical school in the nation.
He came to KCU from the University of New England in Biddeford, Maine, where he served as senior vice president for health affairs and dean of the College of Osteopathic Medicine from 2009 to 2012. Prior to his tenure at UNE, Dr. Hahn served as senior vice president for health affairs at the University of North Texas Health Science Center at Ft. Worth and dean of the Texas College of Osteopathic Medicine for nearly eight years. Dr. Hahn's career in anesthesiology began at the Walter Reed Army Medical Center in Washington, D.C., where he completed his internship and residency training. He completed a fellowship in pain management at both the National Institutes of Health in Bethesda, Maryland, and Georgetown University in Washington, D.C. He then became the chief of pain management services at Walter Reed and also served as a faculty member at the Uniformed Services University of the Health Sciences. While in the military, he served as anesthesiologist for two U.S. presidents, Ronald Reagan and George H.W. Bush.
He eventually was appointed chief of the Pain Medicine and Palliative Care Division at the Milton S. Hershey Medical Center in Hershey, Pennsylvania, and professor of anesthesiology at the Pennsylvania State University College of Medicine. Dr. Hahn was a 1998-1999 Robert Wood Johnson Health Policy Fellow and in that capacity, he served as a health policy advisor to the U.S. Senate Committee on Finance (Sen. William Roth, Chair).
A graduate of Syracuse University with a bachelor of science degree in biology, Dr. Hahn earned a doctor of osteopathic medicine degree from Des Moines University. He is board certified in anesthesiology by both the American Board of Anesthesiology and the American Osteopathic Board of Anesthesiology, for which he holds fellow status. He also holds sub-specialty board certification in pain medicine by the American Board of Anesthesiology and the American Board of Pain Medicine.
Throughout the years, Dr. Hahn has served on numerous committees for various commissions, agencies and organizations. This includes serving as the president of the American Academy of Pain Medicine, for which he was the first osteopathic physician to be elected to that position. He served as the chair of the Board of Deans for the American Association of Colleges of Osteopathic Medicine and was co-chair for the notable Blue Ribbon Commission for the Advancement of Osteopathic Medical Education. Special appointments include: site inspector for medical school accreditation for the Commission on Osteopathic College Accreditation; appointment to a key Medicaid Advisory Panel by the Governor of Texas, and member of the Institute of Medicine's Planning Committee for Graduate Medical Education. Dr. Hahn is currently a member of the Civic Council of Greater Kansas City, serves on the board of directors for the Kansas City Area Development Council and is a Trustee of Rockhurst University.
Dr. Hahn has lectured extensively at national and international meetings. He has published numerous abstracts, book chapters, reviews and has editorials, scientific papers and textbooks. He has also received scientific grant funding through various sources. His textbook, Regional Anesthesia: An Atlas of Anatomy and Technique, was recognized as the Best New Textbook in Clinical Medicine by the Association of American Publishers.
Recent Blog Posts By Marc B. Hahn, DO, FAOCA, President and CEO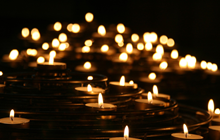 Message from the President: Remembering 9/11
Today, we offer a solemn remembrance of the worst terrorist attack ever waged on U.S. soil. We reflect upon the 2,977 lives lost and upon so many other victims who continue to suffer 19 years later as a result of this horrific day in our country's history.