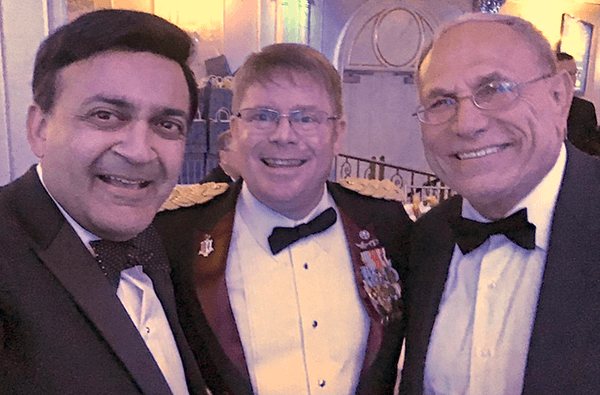 Maj. Gen. Philip Volpe, DO, is an osteopathic physician and celebrated U.S. Army veteran with more than 30 years of service. He also serves as an assistant professor of Primary Care at Kansas City University where he annually leads the commissioning ceremony for KCU's military officers during commencement and helps prepare student doctors in KCU's Military Medicine Track.
During his career, Volpe led in many military command roles, medical units and within military health facilities nationwide. He contributed to deployments where he earned high honors, including the Purple Heart and the Defense Superior Service Medal. Volpe earned a special Distinguished Writing Award for transcribing his experience as a task force ranger surgeon in Somalia in the 1993 Battle of Mogadishu, also known as the Black Hawk Down incident.
Through his experiences in the U.S. Army and with his alma mater, New York Institute of Technology College of Osteopathic Medicine, Volpe formed a friendship with Kevin O'Connor, DO, President Joe Biden's recently appointed White House Physician. O'Connor has served as Biden's doctor since 2009.
Volpe reflects upon O'Connor's dedication, leadership and friendship, and congratulates his friend on his new role with the Executive Branch:
"Having known Kevin for several decades and sharing in many outstanding professional and collegial activities and events as fellow Army Family Medicine Physicians, I know President Biden's health is in great hands.
Kevin is a superb doctor who served in our Army with great distinction throughout his career, a team player extraordinaire and a physician with a positive, uplifting attitude, possessing magnificent communication skills with patients, peers and leaders alike. All who know Kevin know him as a man of honor, loyalty and selflessness, especially when caring for his patients.
His patients, peers, teammates and leaders have trusted in his abilities to do the right thing, do what's best for them, and be the best he could be. He is extremely competent, caring, compassionate, reliable and dedicated to his profession and those he serves. I am proud to have served with, to know and to call Dr. Kevin O'Connor my friend. I wish him the best as he continues to serve our nation in this new role of responsibility."
O'Connor is the second osteopathic physician to serve as White House Physician; his predecessor Sean Conley, DO, was the first as of 2018. The majority of physicians to serve in this capacity have also had military experience. As one of few osteopathic medical school programs offering a military medicine track, KCU is proud of those who serve and have served in the U.S. military, including in this important role in our government's executive branch.
Learn more about Dr. Kevin O'Connor.
Learn more about Maj. Gen. Philip Volpe.
Photo: L to R; Humayun Chaudhry, DO, MPH, Kevin O'Connor, DO, and Maj. Gen. Philip Volpe, DO, are fellow veterans and NYIT alumni.