For more than 25 years, KCU has offered Score 1 for Health, a children's preventive health screening program, to families in the Kansas City area.
KCU launched the program at its Joplin campus in February with two events. One elementary school visited the KCU-Joplin campus on Feb. 5, and the student doctors visited three local elementary schools on Feb. 27. Over the course of the two events, nearly 700 children were screened.
"The primary purpose of this program is to connect children and their families with health resources and providers in the community," said Dr. Laura Rosch, KCU-Joplin campus dean. "This is an opportunity to build a foundation of health."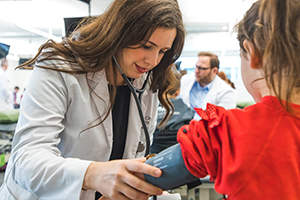 Through this program, KCU-Joplin second-year osteopathic medical students, Missouri Southern State University dental hygiene and nursing students, and Crowder College nursing students, under the supervision of physicians and registered nurses, provided a variety of free health assessments for the elementary school students. These health screenings included dental, vision, blood pressure check, height, weight and physical assessment.
Following the screening, parents receive a personalized letter with their child's assessment results. Additionally, Score 1 nurses and staff will return to each school to provide follow-up checks for children whose vision or blood pressure was found to be outside of normal range.
"This program allows us to screen for health concerns and address them early," said Dr. Rosch. "Addressing health issues now—such as vision, dental, or blood pressure—can help prevent a lot of problems along the way as children grow and develop."
Another benefit to the program is that medical students receive hands-on clinical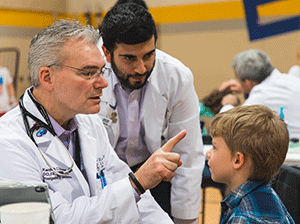 experience working with children. Before participating in Score 1, the student doctors had only interacted with adult patients.
"This was a great opportunity to apply what we've learned. We completed a head-to-toe physical exam, including blood pressure and pulse, to look for concerns. We also completed neurological, cardiology, respiratory, and gastrointestinal exams," said Landon Olson, KCU-Joplin second-year medical student."
"We also got to work with children, a population we don't normally get to work with. It's important to learn how to effectively work with kids. It was a unique experience to have before we begin clinical rotations."
The program also gives student doctors a glimpse into the pediatric health care field. Olson said that he hopes to work as a family doctor or pediatrician following his residency. He was inspired to explore these fields because of his childhood pediatrician and the family medicine doctor that he shadowed.
"I saw the impact that my pediatrician made in my life. I want to be a fun doctor like he was," he said. "I also shadowed a family medicine doctor in a small town in Minnesota. It was great to see the effect he had on the town; he was a really fantastic doctor," said Olson.
Although this school year's Score 1 sessions have ended, planning is already underway for next year's program.