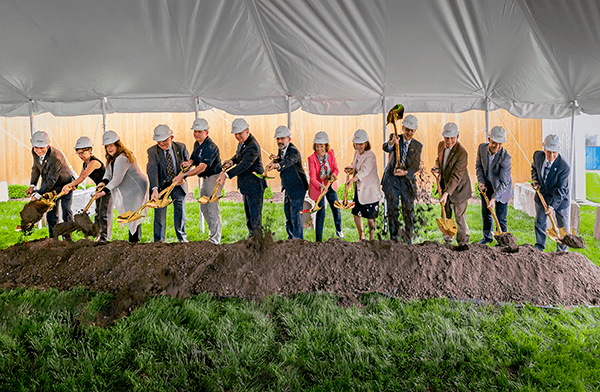 (Kansas City, Mo. – May 22, 2021) – Kansas City University (KCU), with a 105-year history of improving the well-being of the communities it serves, held a ceremonial groundbreaking for a new College of Dental Medicine on its campus in Joplin, Missouri. The new college will address the significant and growing oral health needs of the four-state region of southwest Missouri, northwest Arkansas, northeast Oklahoma and southeast Kansas. The College of Dental Medicine will build upon the foundation of KCU's medical school campus in Joplin that opened in 2017. The first class of osteopathic physicians graduated May 9, 2021.
"KCU has proven success in educating physicians who will remain in the region to practice medicine," said Marc B. Hahn, DO, president and CEO. "We are proud to serve the community with a college of dental medicine that will educate our next generation of doctors of dental medicine (DMD) and address critical oral health care needs as well."
This four-state region's oral health needs are compounded by a drought of dentists. Nationally, access to a dentist is a challenge in almost all rural areas. Nearly all counties within a 125-mile radius of Joplin qualify as Dental Health Professional Shortage Areas (DHPSAs) by the U.S. Health Resources and Services Administration (HRSA). In Missouri alone, 376 additional dentists are needed to remove the DHPSA designation. While Oklahoma requires 166, both Arkansas and Kansas need more than 100 to address these shortages. With only three dental schools in the four-state area, there is a challenge in training an adequate number of dentists to help meet these needs.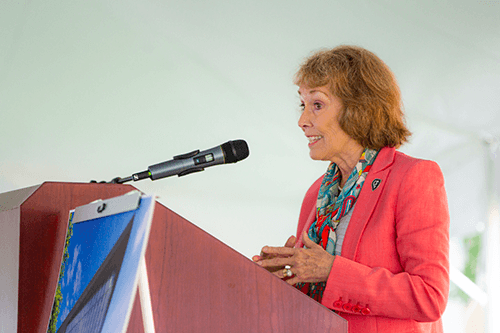 Founding Dean Linda C. Niessen, DMD, MPH, MPP, announced plans for an innovative, community-based education program that will work inter-professionally in addressing medical and dental health care needs.
"It is impossible for a community to be healthy if its citizens do not have good oral health," said Niessen. "We know that periodontal or gum disease can affect diabetes, contribute to heart disease, and respiratory disease and even Alzheimer's disease. As Joplin builds its future workforce, children can't learn when they are suffering from toothache pain. The KCU College of Dental Medicine will help address these issues."
The design has been adapted during the COVID-19 pandemic for added safety measures and to address future public health concerns and disease transmission. University leaders shared architectural renderings of the facility.
The first class of 80 students is projected to be seated in August of 2023.
The cost to construct the dental school is more than $80 million. In one of the largest dental school fundraising efforts in the country, the University committed $40 million towards funding the project with the remainder from philanthropic efforts. Donations include, $10 million from Harry M. Cornell, Jr., $6 million from the Sunderland Foundation of Kansas City, $9 million from the Patterson Family Foundation of Kansas City, $2 million from the J.E. and L.E. Mabee Foundation of Tulsa, Ok and a $10 million pledge from the Joplin Regional Medical School Alliance is 90 percent complete.
The College of Dental Medicine will further enhance KCU's role as an economic driver in the multi-state region and specifically the City of Joplin. It is estimated the College of Dental Medicine will generate a financial impact of $45 million annually, support more than 200 jobs and generate at least $1.7 million in state and local taxes.
"KCU's innovative, community-based program will help bridge the gap between medical and dental care, improve integration of oral health into primary care, and expand access to preventive services in our community," said Rudy Farber, chairman of the JRMSA fundraising committee. "The health benefits combined with the financial impact will support the entire region for years to come."
The groundbreaking event took place on the 10th anniversary of an EF 5 tornado in 2011 that killed more than 160 people, left more than 1,150 injured and underscored the need for broader health care services in the community. As the city of Joplin and the surrounding region remembered the tragedy of the tornado a decade ago, Kansas City University is grateful for by the outpouring of community support for this project and is dedicated to honoring those who were lost that day by improving the health of generations to come.
"We are once again humbled to be part of the Phoenix that continues to rise since tragedy struck 10 years ago today," said Hahn. "We honor the determination and perseverance toward a common vision to make this city even stronger and more resilient."
Read more information about the College of Dental Medicine, view the architectural renderings and watch the recording of the groundbreaking event.
---
About Kansas City University
Kansas City University, founded in 1916, is a fully accredited, private not-for-profit health sciences university, with a College of Biosciences and a College of Osteopathic Medicine. The College of Osteopathic Medicine Is the eighth largest medical school in the nation, the tenth most affordable of private medical colleges, and the leading producer of physicians for the State of Missouri. The College of Osteopathic Medicine has two campuses strategically located in Kansas City and Joplin, Mo. to address the growing needs of rural and urban populations. The University offers multiple graduate degrees in addition to doctor of osteopathic medicine, including a doctoral program in clinical psychology, a master of arts in bioethics and a master of science in biomedical sciences. The new College of Dental Medicine in Joplin, Mo. is scheduled to seat its first class in August of 2023.
Contact: Elizabeth Alex
Public Affairs Director
(816) 304-9498 (cell)
ealex@KansasCity.edu
---