(Joplin, Mo. – April 28, 2022) Kansas City University (KCU) College of Dental Medicine (CDM) located in Joplin, Missouri, received a generous $3 million dollar gift from the Joplin Regional Medical School Alliance (JRMSA).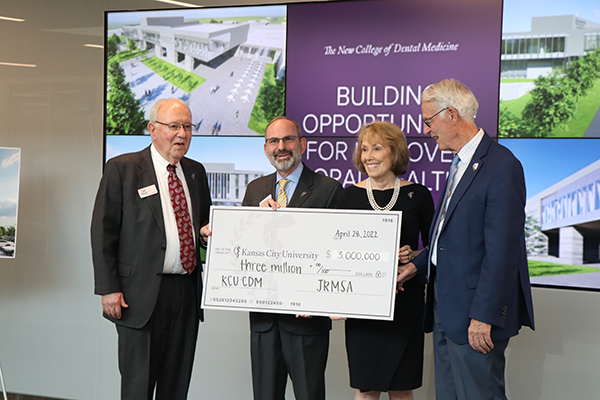 The gift was contingent on the CDM obtaining initial accreditation status from the Commission on Dental Accreditation (CODA) in February of this year. With initial accreditation granted, the College of Dental Medicine is approved to accept applications for the first class of 80 students to start in July 2023.
Rudy Farber, JRMSA fundraising chair, said the foundation has now donated more than $8 million to the KCU College of Dental Medicine.
"The dental school will do a tremendous amount of good for the health and welfare of the residents in the region," Farber said. "We have a little less than $2 million to go, and I can tell you that it's going to happen."
KCU College of Dental Medicine will fill a serious health-care gap in the four-state region of Missouri, Kansas, Arkansas and Oklahoma. All counties within a 100-mile radius of Joplin qualify as a Dental Health Professional Shortage Area (DHPSA) by the U.S. Health Resources and Services Administration (HRSA).
Traditionally, dental students don't enter a clinic setting and gain hands-on training to learn how to take care of patients until their third year. KCU's unique dental curriculum will encompass early educational experiences both in the community and in its oral health center so that students from day one learn what it's like to work in an operatory and treat patients from start to finish.
During a check presentation on the new campus, Marc B. Hahn, president and CEO of KCU, expressed the deep appreciation for JRMSA's commitment to the University and the community.
"Thank you to the Joplin Regional Medical School Alliance for the support of this project, but also for the initial project, the College of Osteopathic Medicine, that you're standing in today. I met with you all nine years ago to talk about the dream of a medical school here in Joplin," he said. "This dream is now a reality. It's hard to believe, but now a dental school is also a reality. We appreciate this community's support for Kansas City University's vision of improving health care not only for Joplin but for the surrounding community in four different states."
###
About Kansas City University
Kansas City University, founded in 1916, is a fully accredited, private not-for-profit health sciences university with Colleges of Osteopathic Medicine, Biosciences and a developing College of Dental Medicine. The College of Osteopathic Medicine is the eighth largest medical school in the nation, the ninth most impactful medical school in primary care for the nation, the tenth most affordable of private medical colleges, and the leading producer of physicians for the State of Missouri. The College of Osteopathic Medicine has two sites strategically located on the University's campuses in Kansas City and Joplin, Missouri, to address the growing needs of both urban and rural populations. The University offers multiple graduate degrees: a doctor of osteopathic medicine; a doctor of clinical psychology; a master of arts in bioethics; a master of science in the biomedical sciences; a master of business administration in partnership with Rockhurst University; a new master of public health in partnership with the University of Nebraska Medical Center; and plans to seat the first doctor of dental medicine students in 2023.