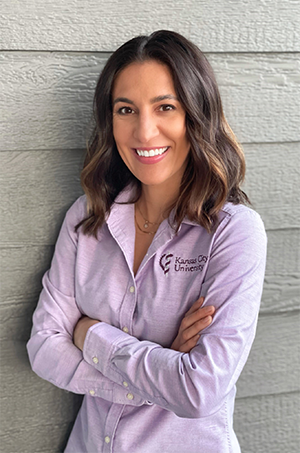 (JOPLIN, Mo. – July 18, 2021) – Erinne Kennedy, DMD, MPH, MMSc, Kansas City University (KCU) College of Dental Medicine Director of Predoctoral Education, has been named one of the 2021 40 Under 40 by Incisal Edge dental lifestyle magazine. For an 11th consecutive year, Incisal Edge celebrates brilliant achievers in dentistry, ages 40 and under, with its signature award.
Fewer than 600 of America's best young dentists have earned this prestigious designation. The magazine will celebrate honorees through a series of profiles in its 40 Under 40 editorial coverage.
"Despite the increasing demands placed on doctors coupled with the unique challenges of the pandemic, each of this year's honorees has managed to excel and bring something special to the practice of dentistry," said Terry J. Barrett, chief marketing officer for the magazine's publisher, Benco Dental. "It's an honor to spotlight such a wide range of achievement in clinical skill, vision, advocacy, leadership and community involvement."
Dr. Kennedy graduated in 2015 with honors from the Nova Southeastern University's College of Dental Medicine (NSU). While in dental school she was involved with the American Student Dental Association (ASDA) as a local vice president at NSU and was a national contributing editor to ASDA. After dental school, Kennedy attended a one-year general practice residency at the VA Hospital in Baltimore, Maryland. She has a passion for community health and received her certificate of completion for a dental public health residency from the Harvard School of Dental Medicine (HSDM) in 2018. She was board certified in public health in 2019. In May 2019, she graduated as the pioneer student at HSDM with a MMSc in Dental Education.
She is a contributing editor for three publications: Dental Economics, Dental Product Review, and Dental Entrepreneur Women Magazine as well as an expert spokesperson on behalf of the ADA for antibiotic use and stewardship in dentistry. Additionally, she has served as secretary to the Council for Education for the American Association of Public Health Dentistry (AAPHD). Dr. Kennedys' professional affiliations include: ADA, AAPHD, Massachusetts's Dental Society (MDS), and Academy of General Dentistry (AGD).
"Thank you to Benco Dental for this fabulous honor! I am thrilled to represent the Kansas City University College of Dental Medicine and be recognized as a 40 Under 40 specialist for 2021. It is special to be recognized among such a strong group of my colleagues, and I look forward to being a part of the future that we will collectively create," said Dr. Kennedy.
The final 40 Under 40 list includes innovative and passionate young professionals in dentistry across the United States. Hundreds of individuals are nominated by industry experts and vetted by an independent panel to select the final honorees. Whether renowned for their medical innovations, volunteer work and philanthropy, or simply a commitment to outstanding patient care, these award recipients represent the best of the industry today, and the promise of even better dentistry tomorrow.
"Dr. Kennedy represents the next generation of dental leaders. I am pleased to see that she is honored with this recognition. As Director of Predoctoral Education at Kansas City University, she is making a difference as we develop an innovative pre-doctoral dental curriculum integrating basic and clinical sciences combined with early clinical experiences," said Dr. Linda Niessen, Dean of KCU's College of Dental Medicine and Vice Provost for Oral Health Affairs. "She continues to explore and identify new educational technologies that will facilitate dental students' learning and improve their clinical insights. I look forward to seeing her career develop and the contributions she will make to dental education and the dental profession in the future."
###
About Kansas City University
Kansas City University, founded in 1916, is a fully accredited, private not-for-profit health sciences university, with a College of Biosciences and a College of Osteopathic Medicine. The College of Osteopathic Medicine Is the eighth largest medical school in the nation, the tenth most affordable of private medical colleges, and the leading producer of physicians for the State of Missouri. The College of Osteopathic Medicine has two campuses strategically located in Kansas City and Joplin, Mo. to address the growing needs of rural and urban populations. The University offers multiple graduate degrees in addition to doctor of osteopathic medicine, including a doctoral program in clinical psychology, a master of arts in bioethics and a master of science in biomedical sciences. The new College of Dental Medicine in Joplin, Mo. is scheduled to seat its first class in August of 2023.
Media Contact:
Haley Reardon
Manager of Marketing & Communications
417.208.0664 (office)
417.592.2223 (cell)
hreardon@kansascity.edu