Dear KCU Community,

As we approach this holiday season amidst the backdrop of a severely worsening pandemic, the notion of being thankful may seem somewhat incongruous or elusive.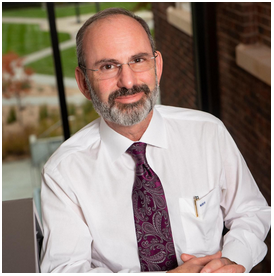 No doubt, Thanksgiving 2020 will be unlike any we've experienced. We are being asked to do more than we ever would have imagined this far into the pandemic. Most of us feel the fatigue that has now set in after eight months, and many are grieving personal loss. However, with COVID-19 cases climbing at alarming rates all across the country, a growing number of our hospitals at or near capacity, and frontline health care workers stretched beyond the point of exhaustion, we must re-think how to safely celebrate this holiday season.
As difficult as it may be during a traditional time of community, it is critical that we continue to follow CDC guidelines: maintain physical distancing; limit the size and duration of gatherings and avoid including anyone who does not live with you as a regular part of your household; be diligent about wearing a mask; and wash your hands frequently. We owe it to ourselves, our families, our friends and our colleagues who are caring for an overwhelming number of patients. We must do everything we can to help change the trajectory of COVID-19 infections and deaths.
Still, hope remains, and we can find much to be grateful for.
I am very thankful to all of our KCU family for your dedication to keeping one another safe and healthy. It is not by accident that our campus population continues to have an extremely low positivity rate of 0.4 percent after five rounds of surveillance testing. This is truly commendable and something we can all be proud of!
At the same time, the "cavalry" — a vaccine and new treatments — has just come over the hill. Soon, we will see a new and long-awaited chapter of recovery open up for our country. However, we must remain vigilant and keep fighting until most of our citizens are vaccinated.
During this time of reflection, let us look to count our blessings, not our problems. I wish you and your loved ones good health and much happiness throughout the Thanksgiving season.
Yours Truly,




Marc B. Hahn, DO
President and Chief Executive Officer