Kansas City University (KCU) celebrated an exciting day for doctor of clinical psychology (PsyD) candidates and new PsyD students with a special ceremony held on Aug. 1.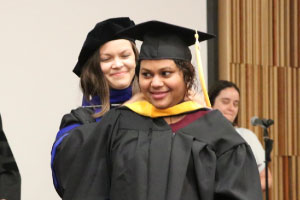 Students enrolled in KCU's inaugural PsyD class who successfully completed two years of study in the program were granted a master's degree and received a ceremonial hood during the event. The incoming class of PsyD students received a pin to symbolize their advancement into a doctoral-level program in the clinical practice of psychology.
"The importance of behavioral health care today cannot be overstated," said Marc B. Hahn, DO, president and CEO of KCU. "According to some projections, more than 70 thousand additional providers will be needed by 2025 to meet expected growth in demand. KCU is proud to have answered the call."
KCU's program is the only PsyD program offered in the surrounding states of Missouri and Kansas as well as KCU's first new academic program in ten years. These students are already impacting the community through their study and work at training sites in the Greater Kansas City area.
"This year alone, 7,500 clinical hours and 1,000 hours of clinical assessment have been logged by our 10 PsyD students," noted Sarah Getch, PhD, director of health service psychology. "Our students are making a difference in our community as we speak."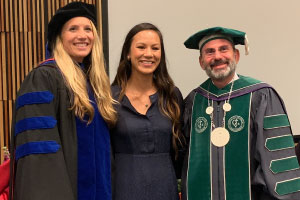 As part of KCU's commitment to inclusion, the University awards a yearly diversity scholarship to an incoming PsyD student. KCU awarded the 2019 PsyD Diversity Scholarship to Vivian Gleason for her essay on diversity and how she might promote an inclusive climate on campus and beyond.
"I feel it's important for people to speak out on inclusivity, not only in the field of psychology but in life," Gleason said. "The more aware that people need to feel included the better we can relate to one another and ultimately make the world a better place."