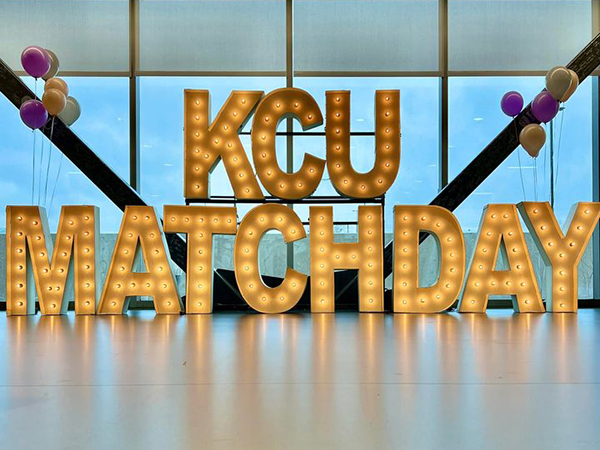 (Kansas City, MO) - Fourth-year medical students from the Kansas City University (KCU) College of Osteopathic Medicine (COM) gathered in person and virtually to recognize their achievements for the annual Match Day on March 18. There was an abundance to celebrate as the class of 434 medical students from both the Kansas City and Joplin, Missouri campuses shared their selections for graduate medical education training (residency). As of April 15, more than 98% of graduates have placed into various specialty training programs.
"This is particularly impressive during a year with a record number of MD and DO graduates applying for residency training," said Josh Cox, DO, executive dean for KCU. "We are proud of the various placements and specialties in which our graduates will be training."
Faculty and administrators continue to work to assist in the placement of all our graduates before July 1. KCU medical school graduates will be entering nearly two dozen different specialty training programs in hospitals across the nation. In keeping with KCU's status as the 9th most impactful medical school in the nation for primary care, 53 percent of this year's COM graduates chose a primary care specialty, which includes family medicine, internal medicine and pediatrics. The top five specialties represented in this year's graduating class are family medicine, internal medicine, general surgery, psychiatry and pediatrics.
Throughout the Kansas City area, 32 KCU graduates will participate in training at local programs, including Children's Mercy Hospital, University of Missouri-Kansas City School of Medicine, University of Kansas Medical Center, HCA Health Care and 11 graduates at Freeman Health System in Joplin Missouri. Sixty graduates will train throughout the state of Missouri. A full listing of KCU-COM Class of 2022 placements can be viewed here.
Commencement ceremonies for KCU's Class of 2022 will take place on May 7 and May 8 in Kansas City and Joplin, MO respectively. The University will celebrate its largest commencement ceremony in its 106-year history with 567 graduates from all programs.
###
About KCU
Kansas City University, founded in 1916, is a fully accredited, private not-for-profit health sciences university with Colleges of Osteopathic Medicine, Biosciences and a developing College of Dental Medicine. The College of Osteopathic Medicine is the eighth largest medical school in the nation, the ninth most impactful medical school in primary care for the nation, the tenth most affordable of private medical colleges, and the leading producer of physicians for the State of Missouri. The College of Osteopathic Medicine has two sites strategically located on the University's campuses in Kansas City and Joplin, Missouri, to address the growing needs of both urban and rural populations. The University offers multiple graduate degrees: a doctor of osteopathic medicine; a doctor of psychology in clinical psychology; a master of arts in bioethics; a master of science in the biomedical sciences; a master of business administration in partnership with Rockhurst University; a new master of public health in partnership with the University of Nebraska Medical Center; and plans to seat the first doctor of dental medicine students in 2023.