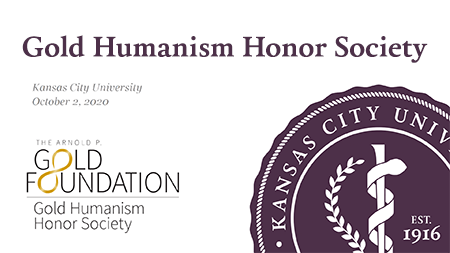 Kansas City University (KCU) continued its commitment to fostering the human element of medicine by installing 60 new osteopathic medical students from the Class of 2021 into the Gold Humanism Honor Society (GHHS) on Friday, Oct. 2, 2020.
The GHHS recognizes students, residents and faculty who are exemplars of compassionate patient care and who serve as role models, mentors and leaders in medicine. Members are peer- nominated and are the ones whom others say they want taking care of their own family.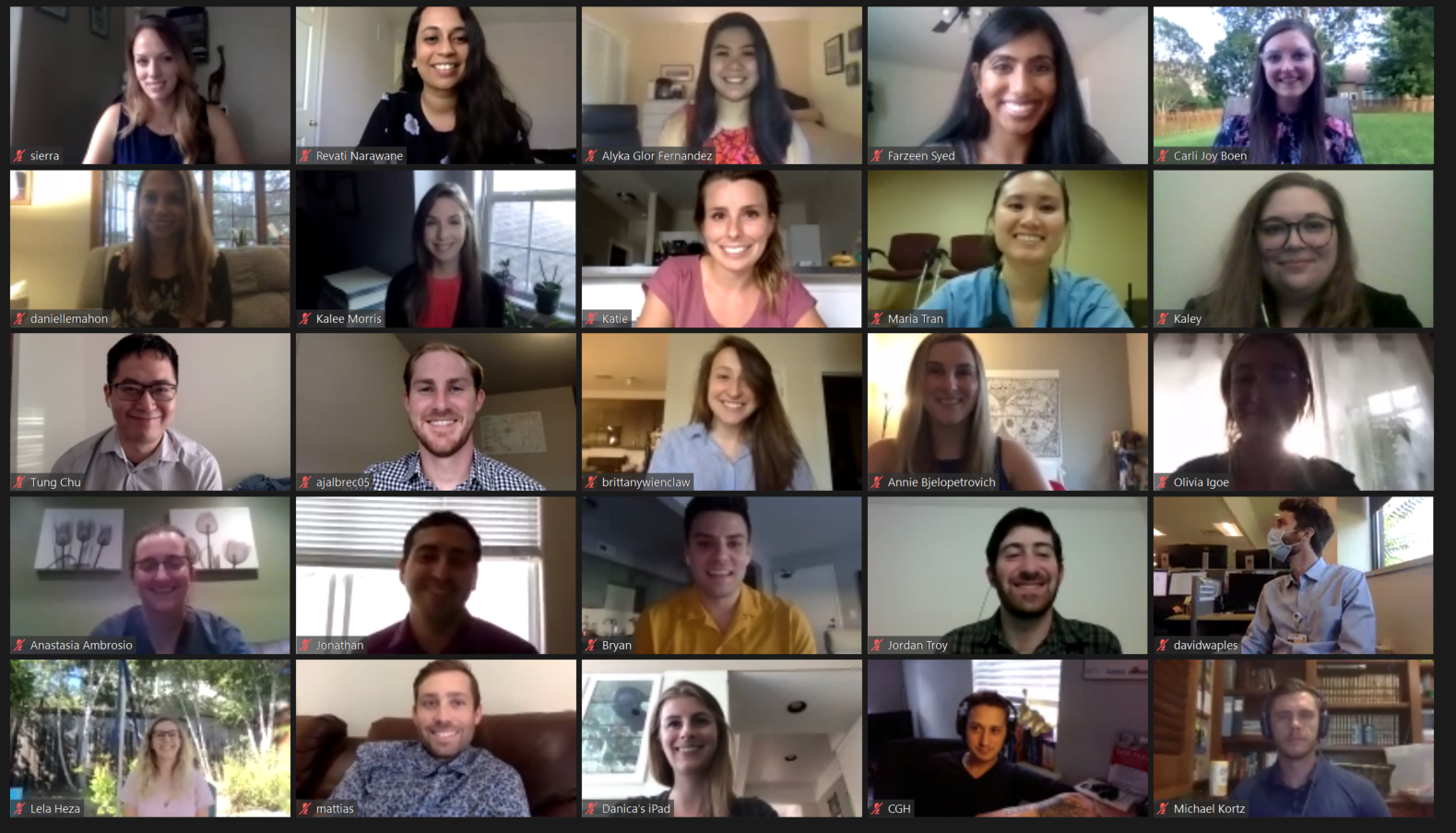 KCU medical students selected 39 of their peers from the Kansas City campus and 21 peers from the Joplin campus based on the "humanism" in their medical approach to patient care. The students were inducted during a virtual ceremony on each campus. The Joplin campus's inaugural ceremony marked the creation of a new GHHS chapter and the induction of its very first members.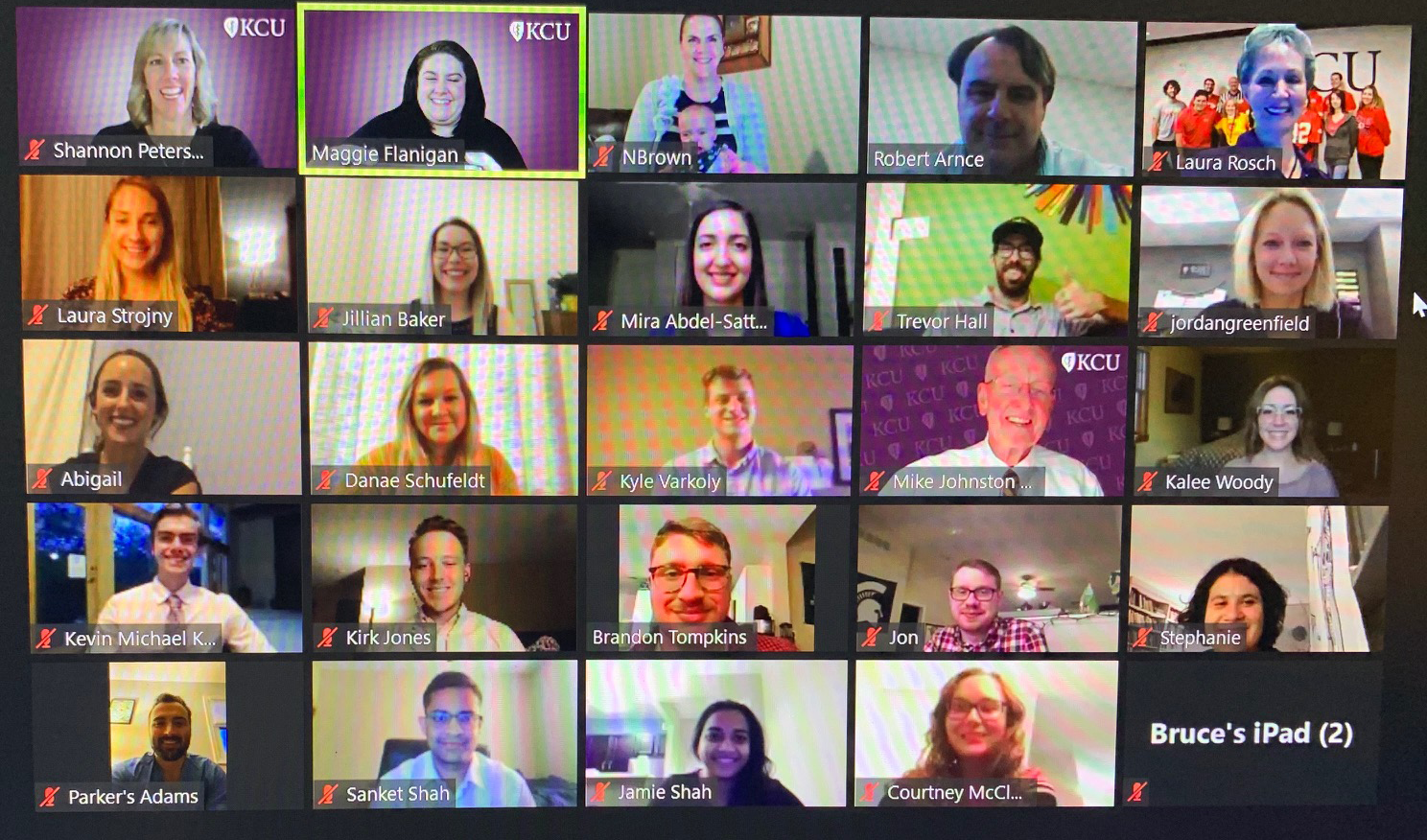 As part of the GHHS application process, students wrote essays about their commitment to patients on a human level. Jillian Baker, who was inducted into the KCU chapter, wrote: "In medical training, it is easy to focus on a diagnostic test, a disease process or the next educational goal. However, without humanism, these things are simply meaningless distractions. Prioritizing humanism requires daily intentionality to remember that your patients' and colleagues' lives are about much more than sickness or medicine."
The Arnold P. Gold Foundation is a nonprofit organization working with healthcare professionals to ensure that compassion, respect and empathy are a key part of all healthcare interactions. Watch a video about the Gold Humanism Honor Society.
KCU Class of 2021 Students Inducted into Gold Humanism Honor Society
Joplin Campus
Parker Adams
Jillian Baker
Stephanie Bates
Connor Bridge
Abigail Finder
Sarah Gillen
Jordan Greenfield
Trevor Hall
Kirk Jones
Kevin Kain
Courtney McClure
Jonathan Montrose
Mira Abdel Sattar
Danae Schufeldt
Jamie Shah
Sanket Shah
Laura Strojny
Brandon Tompkins
Kyle Varkoly
Megan (Foster) Wheeler
Kalee Woody
Kansas City Campus
Alexander Albrecht
Anastasia Ambrosio
David Bassily
Ryan Bennion
Luke Beyer
Anastasia Bjelopetrovich
Carli Boen
Kaley Canova-Gaitros
Tung Chu
Bryan Clements


Kyle Combe
Mattias Dilling
Carli Edwards
Alyka Glor Fernandez
Jonathan Gutierrez
Katherine Haakana
Cameron Hanson
Lela Heza
Olivia Igoe
Michael Kortz
Maria Lotis
Danielle Mahon
Sierra Miller
Austin Mitchell
Kalee Morris
Youjin Na
Revati Narawane
Fulei Peng
Farzeen Syed
Mackenzie Taychert
Maria Tran
Jordan Troy
Alex Tsai
David Waples
Brittany Wienclaw
Danica Witter
M Draper
Andi Garcia
Brian Kongs