Interprofessional Education
---
Interprofessional Education is defined as "when two or more professions learn about, from and with each other to enable effective collaboration and improve health outcomes" [World Health Organization, 2020].
---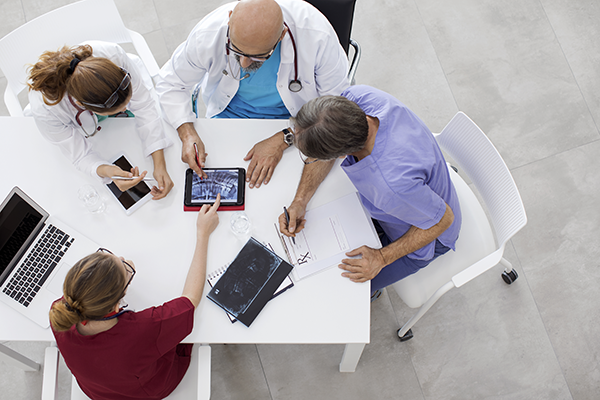 Team-based care has become a central element in most health care settings. A team is a group of individuals working together to achieve their collective goal. To be successful, the team must know who is on the team, their role on and away from the team, how to cohesively and honestly communicate with one another, and continue to progress to becoming the best team they can become.
Mission & Vision
Mission: The Interprofessional Education Committee works to promote the values and ethics for interprofessional practice, utilize the roles and responsibilities of health care professionals to promote and advance the health of populations, foster responsive and responsible interprofessional communication, and support relationship-building values and effective team dynamics through the development, implementation, and assessment of didactic and clinical experiences for all KCU students in order to improve the well-being of the communities we serve. Contact the IPE committee chairperson:IPE@kansascity.edu.
Vision: To create the curricular and clinical experiences necessary to graduate health care professionals who can provide competent and ethical team-based care.
Interprofessional Education Innovation at KCU
Art, Observation & Medicine
Course Description:
IPE 112, a foundational interprofessional education course, introduces learners to the interprofessional collaborative practice core competencies (values/ethics for interprofessional practice, roles/responsibilities, interprofessional communication, and teams and teamwork). Multidisciplinary learning teams will harness the power of the visual arts and collaborate interprofessionally in activities that enhance communication, critical thinking, and observation skills. Using Visual Thinking Strategies learners will explore diversity in perspective, practice, and experience, ways to increase cultural competency, and become aware of their own implicit biases as it relates to patient engagement and team-based healthcare.
COVID19 Vaccine Clinics
KCU Students Work with Local Communities at Vaccine Clinics


Score 1 for Health
Interprofessional Education Resources
IPEC: https://www.ipecollaborative.org/
IPEC Core Competencies: https://www.ipecollaborative.org/core-competencies
TeamSTEPPS: https://www.aha.org/center/performance-improvement/team-training