Biomedical Sciences Students Earn Research Recognition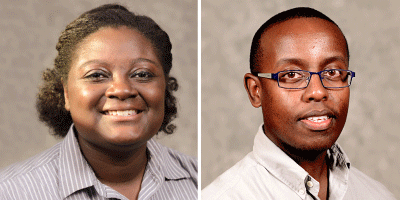 Two College of Biosciences (COB) students were recently recognized for accomplishments in their respective research activities.
Cheyennae Barbee was highlighted by BioNexus KC following her poster presentation award at One Health Day held at the Kansas State University campus in Olathe. The event involves groups from around the world that celebrate a collaborative approach to human, animal and environmental health. Barbee's research, completed under the guidance of Robert White, PhD, dean of the COB, seeks to help people with anemia or bone marrow failure by identifying a new protein or pathway that would allow the creation of red blood cells. BioNexus KC supports interdisciplinary collaboration to advance human and animal health.
Roy Muriu works with KCU Professor Abdulbaki Agbas, PhD, to analyze how elevated levels of the protein TDP 43 in the platelets of Alzheimer's patients might one day be identified as an early biomarker for the disease. Muriu was invited to present an abstract on his research at the Annual Biomedical Research Conference for Minority Students (ABRCMS) held in Indianapolis earlier this month. The ABRCMS is the largest meeting for undergraduate minority students in the country, exposing them to graduate programs and professional opportunities in biomedical research.