Scholarship Matching Challenge Doubles Donor Impact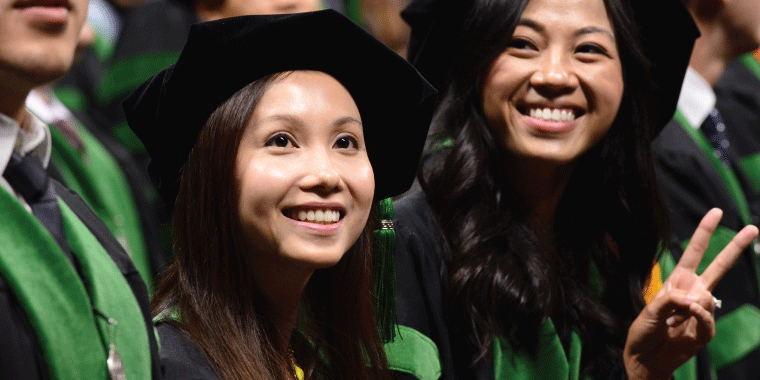 ---
By its very roots, philanthropy means love of mankind.
Recent philanthropic gifts from several major donors set in motion the new KCU Scholarship Matching Challenge to fund a $2 million scholarship endowment for merit, diversity and need-based awards. The endowment will make awards of $10,000 or more to prospective students in KCU's College of Medicine and College of Biosciences. All gifts received for the Scholarship Matching Fund will be matched dollar for dollar, up to a total of $1 million.
"The KCU Scholarship Match will allow us to award scholarships at a much higher level than we have been able to do in the past," said Mary Pat Beals, senior director of institutional advancement. These scholarships will significantly ease the financial burden on KCU students in the College of Osteopathic Medicine and other graduate programs in psychology and health sciences. They will also strengthen the University's potential to attract bright, compassionate osteopathic physicians, research scientists and psychologists. It emphatically speaks to compassion, one of KCU's core values: not only caring for patients and communities but caring for students and colleagues.
Inspired by his own experience as a scholarship recipient, alumnus Bradley Vince, DO (COM '98), initiated the challenge. He was joined by Kansas City businessmen Brad Bergman and Tom McDonnell and the Jack and Glenna Wylie Charitable Foundation, helping seed the fund with $1,000,000. These leaders have profoundly chosen to support physicians, researchers and other health-care professionals in living up to the KCU mission of building a community of professionals committed to excellence in education, research, patient care and community service while improving the well-being of the communities they serve.
Achieving that mission requires an investment by students who often assume years of paying back student loans. These new scholarships at the level of KCU's Scholarship Match program make a significant dent in their financial burden.
"Every student here works extremely hard towards a goal that a lot of them have had since they were kids," says medical student Trevor Hall. "Getting a scholarship is an affirmation of how hard they've been working, not only in medical school but their entire life to get to a point that they can effectively treat patients and really help people."
How To Participate
Online:
Visit community.kcumb.edu/donate and select "Scholarship Match" from the gift options.

Text:
KCUGIFT to 41444

Check:
Designate "Scholarship Matching Fund" and mail your check to:
KCU Advancement Office
1750 Independence Ave.
Kansas City, MO 64106
For more details, contact the Advancement Office at 800-234-4847 ext. 7280 or 816-654-7280.
Royce K. Keilers, DO, FACOFP & Elva A. Keilers, DO
Royce Keilers, DO (COM '65), and Elva Keilers, DO (COM '66), know the power of a scholarship. The impact of financial assistance greatly influenced their decision to make a contribution to the KCU Scholarship Match program.
"We received scholarships, and they were very instrumental in our ability to complete medical school," Elva said.
The Drs. Keilers met while at Kansas City University of Medicine and Biosciences. Royce graduated 1965 and went on to be a family practice physician. Elva graduated the following year and completed a residency in anesthesiology before turning to family practice.
"We were privileged we got our DO degrees at KCU, and we're trying to pay that back," they said, observing that there may be many reasons that could prevent students from completing medical school. Donating to KCU Scholar Match is one way to lighten the financial burden.
Giving back and expanding the influence of osteopathic medicine is significant.
A co-founder of the International Primary Care Educational Alliance (IPCEA), Royce traveled to China several times with two other medical educators over a 17-year period. Their mission is to equip general practitioners to help revamp the health-care system in general and to promote global recognition of primary care medicine as the foundation of good health for all patients. Elva has pointed out that IPCEA aims to bridge cultures to enrich global health.
Through his work with IPCEA, Royce earned Heart to Heart International's "It Only Takes One" Award. At the award ceremony Royce deflected the attention from himself to those around him, telling them, "You were the 'one' in that award."
The Keilers are a living testimony to the true definition of philanthropy – love of mankind. They agree that you can accomplish more with love than negative attitudes. As Royce said, "If people are healthy, they are more peaceful, even though our governments are light years apart."