Fit Doctors Association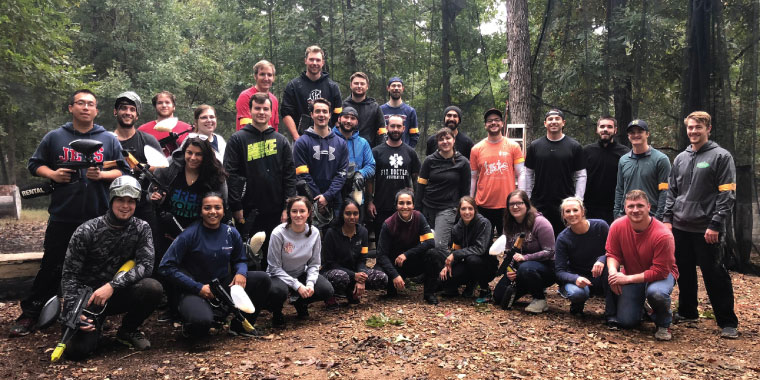 ---
When Brandon Tompkins looks back at his first year in med school, he recalls spending most of his time "in the books." He's come up for air as a second-year student, thanks in part to his leadership as president of KCU-Joplin's Fit Doctors Association (FDA), a club focused on promoting fitness as a way of life.
Taking care of the whole person is fundamental to the practice of osteopathic medicine. Ironically, med students taking care of the "whole student" may not come naturally. KCU student clubs can help.
Tompkins said club members began by asking themselves what it really means to be fit.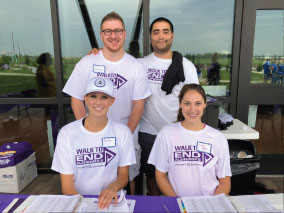 "In FDA, we strive for fitness in all your life – mental, physical and relationships," Tompkins says. "The truth is, we can all do a better job cultivating fitness." To that end, the club may bring in speakers to talk about work-life balance and healthy eating habits, says Kendra Tilton, associate director of student activities at KCU-Joplin. The group also organizes morning runs and has participated in community activities, such as the Walk to End Alzheimer's and Special Olympics.
FDA is also making it easier for students to link up as "workout buddies" via social media. They can team up with other students who are also balancing all aspects of life as a med student.
While the content of FDA programming revolves around fitness, all of the clubs create opportunities to bring students together. In fact, Tompkins says one of the most fun things FDA did this year was a paintball tournament open to all students.
"Clubs help to streamline the process of finding like-minded individuals with common interests and goals and put these students together early in their medical school career. It's easy to lose sight of social activity during the rigor of the beginning of the academic year," says Robert Rogers, DO, faculty advisor to the Joplin FDA.
Long term, Tompkins also sees the connection between FDA's focus on fitness and the way students will practice medicine with their own patients one day. Nutrition and fitness are, of course, vital to a healthy lifestyle, but they are not covered extensively during medical school.
Engaging in a club like FDA "gives the student doctor a much more in-depth understanding of these topics and the power these two health components have within their patients' lives," says Rogers. "This makes them more likely to discuss these topics in detail with patients in the future."
KCU-Joplin's FDA set a good foundation for that this year. As a member of the first class of medical students on the new campus, Tompkins takes note of his unique leadership role as different clubs grow on the new campus. "I feel we can help set the culture here."
And, by the way, a little fun – and paintball – is good for the students' spirit, too.