Haley Reardon
Senior Manager of Marketing and Communications

Senior Manager of Marketing and Communications, Haley Reardon, joined KCU's University Relations team in March 2021. She has an extensive background in communications and public relations having held roles in both the healthcare and higher education sectors. Her work has earned numerous gold and silver awards through the American Advertising Federation – Heartland Division. Haley completed her bachelors degree in communications at Missouri State University. In her free time she enjoys a good bargain hunt, riding shotgun with her husband, Keith, and spending time at home.
Recent Blog Posts By Haley Reardon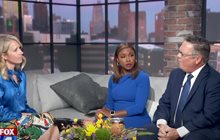 KCU's Dr. Sarah Getch featured in weekly segments focused on mental health
Research has found that loneliness increases the risk of premature death by nearly 30 percent. In recognition of Mental Health Awareness Month, Sarah Getch, PhD, KCU program director and associate professor of Health Service Psychology, joined WDAF-TV for a series of segments focused on the importance of connectedness.