Haley Reardon
Senior Manager of Marketing and Communications

Senior Manager of Marketing and Communications, Haley Reardon, joined KCU's University Relations team in March 2021. She has an extensive background in communications and public relations having held roles in both the healthcare and higher education sectors. Her work has earned numerous gold and silver awards through the American Advertising Federation – Heartland Division. Haley completed her bachelors degree in communications at Missouri State University. In her free time she enjoys a good bargain hunt, riding shotgun with her husband, Keith, and spending time at home.
Recent Blog Posts By Haley Reardon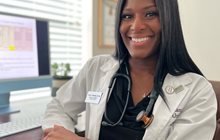 KCU medical student receives national attention for study on septic shock
Despite many advances in medicine, septic shock remains a serious illness with a mortality rate exceeding 30 percent among patients who receive treatment and resulting in more than 200,000 deaths each year in the United States alone. However, an ongoing study conducted by KCU third-year medical student Takara Newsome-Cuby in collaboration with a research team from University of Missouri-Kansas City, shows much promise.