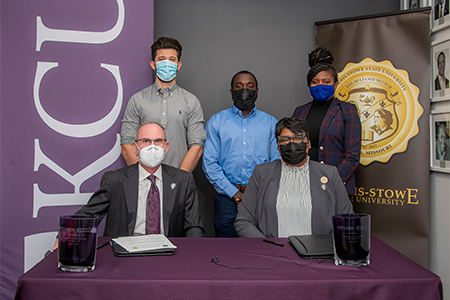 (Kansas City, Mo. – August 31, 2021) Kansas City University (KCU) and Harris-Stowe State University (HSSU), a historically Black university in St. Louis, Missouri, today signed an agreement that provides a novel pathway for HSSU students to enter medical school by first completing both their undergraduate degree from HSSU along with a master's degree from KCU's College of Biosciences (COB) within four years. The partnership has welcomed three new HSSU students into the program for the current academic year.
"We are excited to build on our relationship with Harris-Stowe State University as we work toward the shared goal of ensuring the next generation of physicians is representative of the patients they will serve," said Marc B. Hahn, DO, president and chief executive officer of KCU. "This partnership is about more than just increasing diversity within KCU's student body, it is about addressing intolerance, improving cultural competency in physicians, and most importantly, confronting head on the issue of health disparities across our communities and around the country."
The inaugural cohort of three HSSU students began the program this summer, and under the terms of the agreement, HSSU students who meet the following requirements will be eligible to apply to the program annually:
Enrolled at HSSU as a STEM major -- Biology, Math, or Sustainability and Urban Ecology
Completion of 30 credit hours in specified classes and coursework
Currently hold both Good Academic Status and Good Disciplinary Status with HSSU
A minimum cumulative 3.0 GPA and above-average grades in prerequisite courses
"We are pleased to partner with Kansas City University to offer a pathway for our students to seamlessly continue their education by obtaining a high-quality graduate degree at an affordable cost," said LaTonia Collins Smith, EdD, interim president of HSSU. "This partnership also aligns with our new statewide mission to prepare underrepresented and under-resourced students for careers in STEM fields."
Going forward, up to two HSSU students per year will be selected to participate, and, through the partnership, full-tuition scholarships are available for the one-year COB master's program. In addition, students who complete the degree requirements and earn a 3.5 GPA or higher in the COB program will automatically be guaranteed an interview with KCU's College of Osteopathic Medicine and eventually with KCU's College of Dental Medicine, currently in development on its Joplin, Missouri campus. KCU and HSSU hope the program will serve as a model for other institutions to partner toward the goal of creating more widespread representation of underrepresented minorities in medicine, dentistry and other health professions.
####
About Kansas City University
Kansas City University, founded in 1916, is a fully accredited, private not-for-profit health sciences university with a College of Biosciences and a College of Osteopathic Medicine. The College of Osteopathic Medicine is the eighth largest medical school in the nation, the tenth most affordable of private medical colleges, and the leading producer of physicians for the State of Missouri. The College of Osteopathic Medicine has two sites strategically located on the University's campuses in Kansas City and Joplin, Mo. to address the growing needs of rural and urban populations. The University offers multiple graduate degrees in addition to a doctor of osteopathic medicine, including a doctoral program in clinical psychology, a master of arts in bioethics and a master of science in biomedical sciences. The proposed College of Dental Medicine in Joplin, Mo. is scheduled to seat its first class in August of 2023.
About Harris-Stowe State University
Harris-Stowe State University (HSSU), located in midtown St. Louis offers the most affordable bachelor's degree in the state of Missouri. The University is a fully accredited four-year institution with more than 50 majors, minors and certificate program options in education, business and arts and sciences. Harris-Stowe's mission is to provide outstanding educational opportunities for individuals seeking a rich and engaging academic experience. HSSU's programs are designed to nurture intellectual curiosity and build authentic skills that prepare students for leadership roles in a global society.