Kansas City University (KCU) has appointed W. Joshua Cox, DO, FACOFP, to the position of executive dean of the College of Osteopathic Medicine (COM) and vice provost for Medical Affairs, effective November 1, 2021.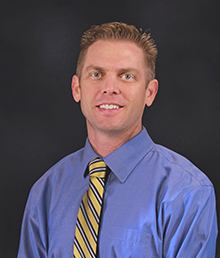 Cox began his career as a family physician for the U.S. Army and in 2006 joined the KCU faculty. During his tenure at the university, he has served in a number of capacities, including professor of Family Medicine, chair of Primary Care, associate dean for Clinical Education, COM campus dean for Kansas City and most recently as interim executive dean and vice provost for Medical Affairs.
"I am proud that Josh has dedicated his career not only to the osteopathic profession but also to this university," said Marc B. Hahn, DO, president and CEO for KCU. "Over the past 15 years, he has demonstrated outstanding leadership and a tireless commitment to the growth and success of our students. During the critical and challenging past 18 months of the COVID-19 pandemic, his academic expertise, guidance and collaboration with our clinical faculty and administration proved vital to delivering high-quality, uninterrupted curriculum to our medical students on our campuses in both Kansas City and Joplin. He also was instrumental in KCU's successful efforts to engage our COM students in the vaccinator workforce, and we are grateful for his commitment to protecting the public health in our communities."
As executive dean and vice provost for Medical Affairs, Cox's primary responsibilities will include overseeing COM curriculum development and execution; directing programs to enhance faculty effectiveness; ensuring compliance with accrediting bodies, regulatory agencies and governing bodies; and directing medical operations for the University's clinics and clinical partnerships in the community.
Cox earned a Doctor of Osteopathic Medicine from KCU in 2000, and is residency trained and board certified in family medicine. He is a fellow of the American College of Osteopathic Family Physicians (ACOFP) and in 2019 was awarded the Osteopathic Family Medicine Educator of the Year Award. He has served on numerous professional boards and committees, including the Board of Directors of DO Care International, the American Association of Family Physicians (AAFP) Commission on Education, the American College of Osteopathic Family Physicians (ACOFP) Congress of Delegates, and the National Board of Osteopathic Medical Examiners Standard Setting Committee.
"Dr. Cox stood out among the many highly qualified and competitive applicants for his proven clinical and academic experience over the past two decades," said Edward O'Connor, PhD, provost and executive vice president for Academic, Research and Student Affairs. "He is a strong advocate for students as they journey through their medical education, embracing the KCU mission of improving the well-being of the communities we serve and living our values each and every day. We look forward to his continued contributions and positive impact on the university."